3M™ Stikit™ Paper Disc Roll 426U are multiple sanding discs packaged in a roll for convenience and use in high-production environments and ideal for white wood sanding, sealer sanding, solid surface or where fine finish is critical. The disc itself features silicon carbide abrasive with a load-resistant coating and open coat abrasives that work together to minimize loading.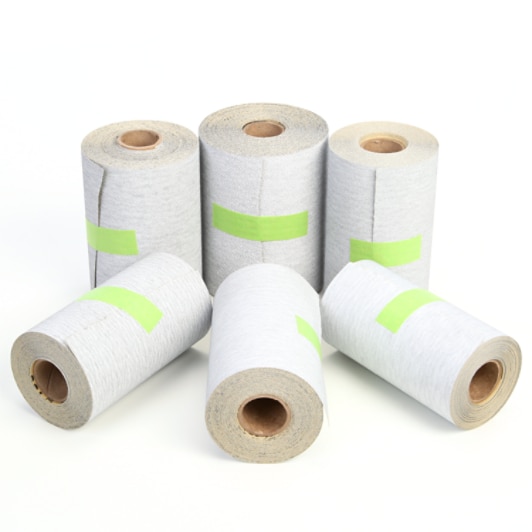 We chose silicon carbide abrasive, which is fast cutting, creates a smoother finish than aluminum oxide or garnet abrasives, and is effective for finishing on hard woods and solid surfaces. Constructed with A-weight, light paper and a pressure sensitive adhesive (PSA) backing, this disc will flex with the backup pad and flow over contours to produce consistent finishes. The adhesive holds the disc securely during use and provides quick and easy change out for multi-step sanding and finishing processes. These discs are suited for rotary and random orbital sanders. Applications include general sanding, finishing, blending, surface leveling, and prep prior to staining or painting, and bare wood sanding.
Sanding discs cut better and last longer when dust isn't loading the cutting surface of the abrasives. Loading occurs when wood or paint dust clogs the surface of the disc and the abrasive points, which can quickly make the disc ineffective. Open coat construction means the abrasive grains are spaced so that dust and debris can collect in the spaces rather than loading the disc. Additionally, the open coat feature provides a more aggressive cut than a comparable closed coat abrasive of the same grade, for faster results.
Silicon carbide is a synthetic mineral that is very sharp and commonly used for low-pressure applications such as white wood sanding, finishing and paint prep. While it breaks down faster than aluminum oxide, it produces a superior finish.
Our 3M™ Stikit™ products are designed to handle a wide range of sanding and finishing needs. These high-quality abrasive products come ready to use with a pressure sensitive adhesive coating on the backside so they conveniently press on to a backup pad or hand pad, and remove cleanly, leaving an uncontaminated surface for the next disc.
Learn more about 3M™ Industrial Products for Metalworking
(PDF, 13 Mb)