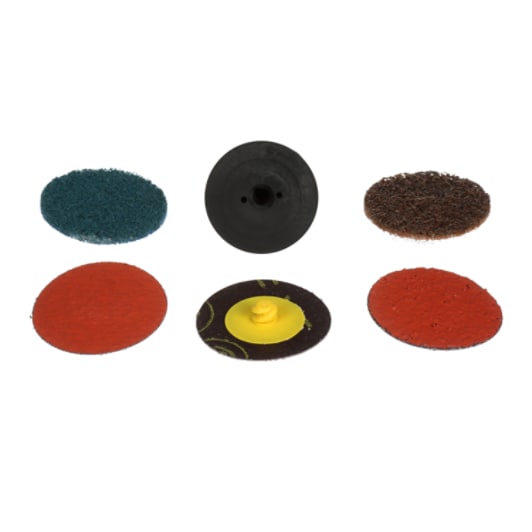 Scotch-Brite™ Grinding Disc Kit lets you use tough industrial grade abrasives for auto repairs
Industrial Quality Abrasives in a Convenient Kit
Now, you can use the same abrasives as auto body professionals at large collision repair shops, at home or in garages of any size. This compact and convenient grinding disc kit contains a 36 grit, an 80 grit and a 120 grit ceramic coated abrasive disc. It also includes a
Scotch-Brite™
disc in coarse grit and another in fine grit, plus a Roloc™ adapter that attaches quickly and easily to a household drill. Simply twist the disc onto the attachment and you're ready to start. You can interchange each sanding disc just as quickly with the same twist-off, twist-on motion.
This grinding and sanding abrasive disc kit is ideal for a full range of auto repair projects including gasket removal, disc brake finishing, stripping paint and primer to bare metal, grinding rust and polishing metal.
The Reliability of Scotch-Brite™, The Science of 3M
For more than half a century,
Scotch-Brite™
has been trusted in industrial settings for surface conditioning products that combine the finest 3M technologies in abrasives, adhesives and non-wovens. These technologies include the development of open-web materials that resist loading for longer disc life, as well as self-sharpening abrasive minerals that deliver exceptional consistency and stay sharper longer. The Scotch-Brite™ Grinding Disc Kit brings these decades of scientific development into households of any size.
Kit Includes:
(1) 3M™ ceramic 2" sanding disc — 36 grit
(1) 3M™ ceramic 2" sanding disc — 80 grit
(1) 3M™ ceramic 2" sanding disc — 120 grit
(1) Scotch-Brite™ ceramic 2" sanding disc — coarse
(1) Scotch-Brite™ ceramic 2" sanding disc — fine
(1) Roloc™ adapter
(1) 3M™ Sanding and Finishing Disc Holder
Learn more about Automotive Aftermarket products
(PDF, 68.63 Mb)
Industrial grade abrasives for use in auto repairs in any garage
3M Roloc™ attachment system quickly adapts abrasives to household drills
Includes coarse grits for grinding through paint, primer, filler and rust
Ceramic sanding discs are color coded for easy grit identification and accurate use
Also contains disc holder for better organization and working efficiency