3M™ PSA Cloth Disc 777F provides the durability needed for moderate stock removal to finishing of your workpiece. 3M ceramic aluminum oxide grain blend is designed for exceptional durability and cutting efficiency.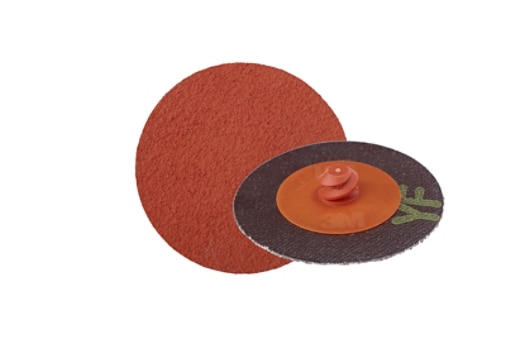 Excellent for use on stainless steel, aluminum and fiberglass
Good for High-Pressure Applications
Our 3M™ PSA Cloth Disc 777F comes with heavyweight cloth backing to support high-pressure applications and work well on heat-sensitive metals. To protect heat sensitive alloys like stainless steel, nickel alloys and cobalt alloys, a grinding aid on the 777F cloth disc reduces running temperatures, and the abrasive is bonded to the backing with resin to maintain disc durability under high heat and pressure. 777F discs are particularly used on stainless steel or other exotic metal alloys for dimensioning parts, deburring, blending, and finishing castings and forgings.
Pressure-Sensitive Adhesive for Easy Attachment
We used a high strength pressure sensitive adhesive attachment system, which is a good choice for high heat and severe disc sanding applications. Convenient liners reduce contamination of the adhesive, maximizing adherence to the disc pad. Our 3M™ Ceramic Abrasive Grain is a ceramic mineral designed using a 3M process to enhance toughness and hardness of the grain. For increased performance, 3M™ PSA Cloth Disc 777F products feature aluminum oxide blended with 3M™ Ceramic Abrasive Grain for one of the hardest, longest-lasting abrasives available.
Ceramic Abrasive Cuts Fast and Handles Intense Heat and Stress
Perfect for moderate to heavy stock removal, ceramic abrasives are engineered to cut fast and handle intense heat and stress applications. Ceramic aluminum oxide blend surpasses aluminum oxide abrasives in cut-rate and durability and makes the 3M™ PSA Cloth Disc 777F an excellent choice for moderate stock removal and surface preparation. The 3M brand, across thousands of products, represents consistency, superior quality, and value.