3M™ Trizact™ Hookit™ Cloth Disc 337DC provides fast scratch removal on automotive metal components and leaves a superior finish. Premium aluminum oxide macroreplicated grain on an X-weight backing combine to contribute to long product life and consistent performance for greater productivity.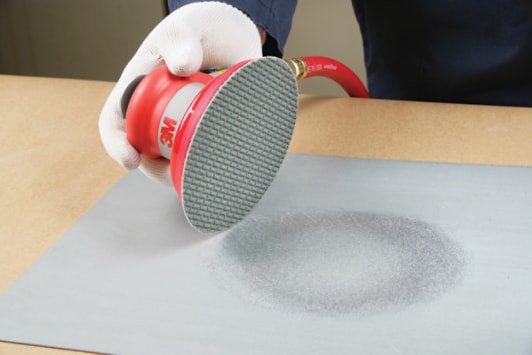 Provides fast scratch removal on automotive white metal and other applications
Get a More Perfect Body in White
3M™ Trizact™ Hookit™ Cloth Disc 337DC was designed for automotive white metal repair. It is ideal for blending and finishing minor defects and for use to remove scratch marks left behind by metal files or rotary tools. It provides a very fast scratch removal capability combined with a superior finish, leaving the surface ready for e-coat application.
This cloth disc is available in grades of A300, A160, A100, A65, A45, A30 and 5-inch diameters, as well as make-to-order sizes.
"Bricks and Channels" Abrasive Structure
Microreplication is the technology behind the geometrical "bricks-and-channels" abrasive structure of 337DC products. These unique abrasive bricks contain up to four times as much mineral as conventional abrasives. As the mineral breaks down, fresh mineral is exposed.
The microreplicated pattern of 3M™ Trizact™ Hookit™ Cloth Disc 337DC generates minimal heat. The open spaces between the abrasive bricks channels heat away and removes swarf. This means you can use these discs on substrates like galvanized panels, aluminum hoods, and other applications where loading may be an issue.
Get a Grip With Hookit Attachment
3M's Hookit™ hook-and-loop attachment makes disc attachment, removal, and re-attachment clean and easy, and facilitates re-use of the disc for the extent of the abrasive life.
It couldn't be simpler to attach a disc and it stays firmly seated. In addition, they are more flexible and they resist contamination by dust, dirt, and debris, unlike pressure sensitive adhesive backings.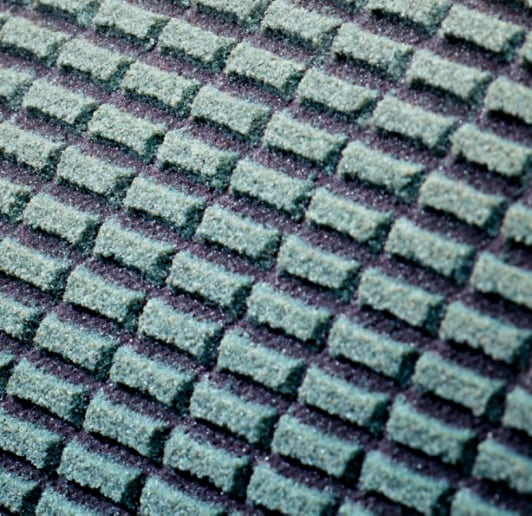 Macroreplicated structure provides long product life and consistent cut and finish
Recommended Applications
Hand file scratch refinement
Rotary tool scratch refinement
Blending and finishing of minor defects
Effective on galvanized and aluminum parts
3M Science. Sculpting the Geometry of Abrasive Grain.
3M pioneered the use of tiny, precisely shaped structures to give materials new physical, chemical, or optical properties with microreplication technology.
It allows 3M to engineer the geometry of abrasive grain, to create and reproduce perfectly calibrated three-dimensional composite structures — pyramids, hemispheres, cubes — and distribute them precisely and uniformly across an abrasive backing. Each is identical in height and orientation, eliminating the danger of uneven edges or deep scratches. As the abrasive wears, a continuous supply of fresh, sharp abrasive mineral is exposed, sustaining consistent cutting performance and profile.
The science that makes 3M's structured abrasives work better and wear more evenly, provide pristine finishes for delicate components is also the science that makes road signs, electronic displays, and exterior building illumination capture and reflect light more brilliantly.
Learn More about 3M Products for Metalworking
(PDF, 73.23 Mb)
Grade Availability Guide
3M ID
Mineral
Backing
Desription
Use Dry/Wet
A Grade
300
160
110
100
90
80
65
60
45
35
30
20
16
10
6
5
3
217EA
Aluminum
Oxide
Flex. J wt.
Low Pressure
Dry
•
•
•
•
•
•
•
237AA
Semi Flex. X wt.
Low-Med Pressure
Dry
•
•
•
•
•
•
•
•
253FA
Stiff X wt.
Low-Med Pressure
Wet
•
•
•
•
•
•
•
305EA
Flex. J wt.
Fine Finishing
Dry
•
•
307EA
Flex. J wt.
Low-Med Pressure
Dry
•
•
•
•
•
•
•
327DC
Semi Flex. X wt.
Low Pressure
Dry
•
•
•
•
•
•
337DC
Semi Flex. X wt.
Med Pressure
Dry
•
•
•
•
•
•
347FC
Semi Flex. X wt.
High Pressure
Wet/Dry
•
•
•
•
•
•
363FC
Stiff YF wt.
Med-High Pressure
Wet
•
•
•
•
•
•
407EA
Silicon
Carbide
Flex. J wt.
Low-Med Pressure
Dry
•
•
•
•
463FC
Stiff YF wt.
Med-High Pressure
Wet
•
•
•
•
953FA
Ceramic
Stiff YF wt.
Med-High Pressure
Wet
•
•
•
•
•
•
•
•
•
•