3M's Cubitron™ II Roloc™ Fibre Discs 786C is built for grinding, weld blending, deburring and other tough metal finishing jobs. 3M™ Precision Shaped Grain – a tough, hard, sharp ceramic abrasive – is resin-bonded to a stiff fiber backing. This disc lasts significantly longer than conventional ceramic grain discs, delivering a lower cost per grind with fewer disc changes.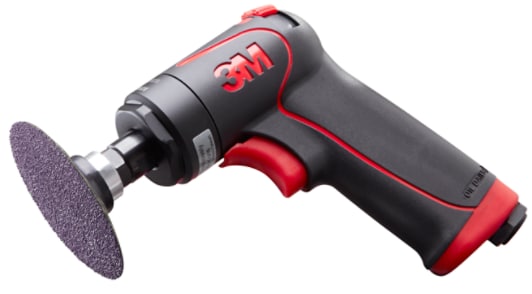 For best results, use Fibre Roloc™ discs with 3M™ Power Tools such as the 3M™ Pistol Grip Disc Sander (shown above)
About 3M™ Cubitron™ II and Precision-Shaped Grain
3M™ Cubitron™ II abrasive discs, cutoff wheels and file belts have raised the bar for high-performing abrasives. Cubitron™ abrasives feature our Precision-Shaped Grain (PSG) technology, which allows our engineers to control the geometry of the abrasive grain for a truly fast, efficient cut. Instead of simply crushing the abrasive into particles, 3M uses microreplication to uniformly size ceramic grains and precisely shape them into triangular structures — essentially, sharp peaks that slice, not plow, through paint and metal. These grains are electrostatically oriented on the abrasive surface for the most efficient cut and even wear. What's more, PSG fractures during use to maintain sharp abrasive edges. The result: Cubitron™ II cuts 30% faster and lasts 2x longer than conventional ceramic abrasives.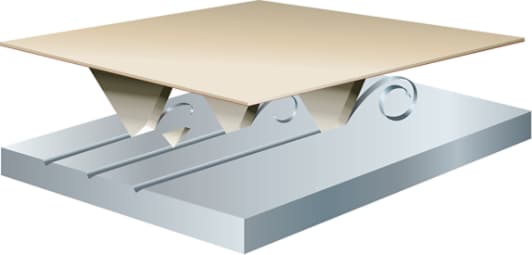 Wears evenly and provides super-long life and consistency at any grinding pressure
Time-Saving Quick Change Attachment
Our 3M™Fibre Roloc™ Disc Quick Change Attachment System is convenient and saves time. Discs screw securely into the threaded mandrel without tools. Ideal for applications requiring frequent grade or disc size changes. For best results, use Fibre Roloc™ Discs with 3M™ Power Tools. 3M abrasives, accessories and power tools are optimized to work together and help you attain maximum productivity.
Find 3M™ Power Tools, Abrasives and Accessories
(PDF, 3.75 Mb)
Recommended Applications
Choose the 3M™ Cubitron™ II Roloc™ Fibre Discs 786C for medium to heavy-duty metalworking such as weld grinding and clean-up, as well as edge chamfering, beveling, and paint removal processes.
Clean and remove coatings
Deburr metal
Remove gaskets
Polish and shape metal
Remove oxidation, paint and rust
Cut spot welds
Strip paint to metal
Slotted for cutting off weld and door skin removal
Tech Tip
Use 3M™ Disc Pad Face Plates — Red Ribbed — to optimize product life of Cubitron™ II Fibre Discs — grades 36+, 60+ and 80+.
A Portfolio of Abrasive Systems Solutions
From specialty abrasives designed for a highly specific purpose to versatile sheets, 3M provides an abrasive to accomplish your task or perfect your system. At 3M, we draw from a wealth of original technologies and breakthrough inventions to provide a broad portfolio of abrasives that shape, finish and polish with ease and precision.