3M™ Hookit™ Film Disc 260L is ideal for auto body applications including blending, scuffing, paint prep and removing paint defects. Choose aluminum oxide mineral cutting surfaces from P600 to P1500, all on durable film backing. Several versions of the disc feature our 5- or 6-hole design to help keep dust away from the disc surface. Hookit™ attachment makes it easy to change and reuse discs.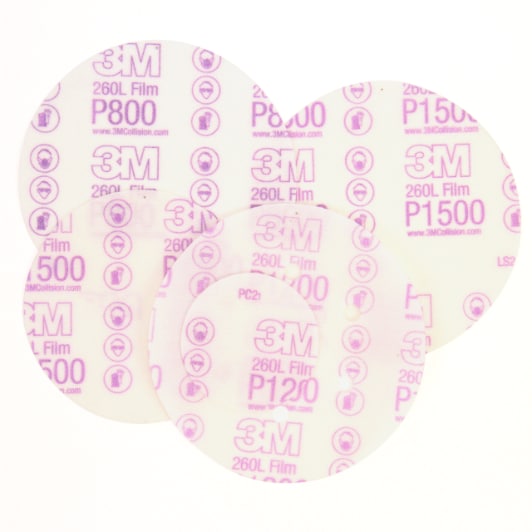 Grades from P600 to P1500 available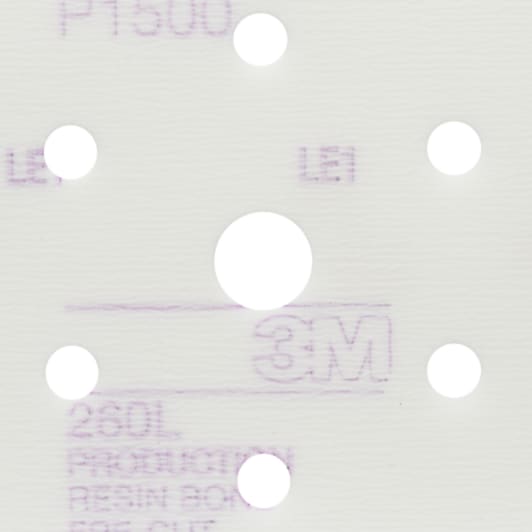 5- or 6-hole design to help keep dust away from the disc surface
For auto body sanding applications requiring precision or fine finishes, our 3M™ Hookit™ Film Disc 260L provides a range from P600 to P1500 grades. These film-backed abrasive discs are available in 3-, 5- or 6-inch diameter sizes. P600 and P800 grade discs are ideal for paint preparation and clear coat blending on surfaces including clear coat, fiberglass, paint, plastic and primer. They are also great for scuff sanding — faster and easier to use than traditional scuffing pads, plus there's no drying time. Our P1000, P1200 and P1500 grades are ideal for removing runs and leveling minor dust nibs as well as smoothing mismatched orange peel from topcoat finishes before repainting or buffing. This grade range is suitable for all metals and all automotive paints.
Tough Abrasive, Smooth Results
Our 3M™ Hookit™ Film Disc 260L combines durable film backing with fast-cutting, long-lasting aluminum oxide mineral abrasive. Aluminum oxide is a popular choice among industrial professionals because of its fast cut-rate and long life. This mineral makes a tough, durable abrasive that self-fractures to expose fresh cutting edges, whereas traditional natural abrasives dull more quickly. Due to its fast cut-rate, hardness, and strength, it is widely used in grinding applications in addition to sanding and finishing applications. Aluminum oxide is suitable for a wide variety of materials in metalworking, including ferrous alloys.
Our Dust Management Features
Several versions of our 3M™ Hookit™ Film Disc 260L feature our patented 5- or 6-hole pattern which helps keep dust from clogging the surface of the disc — significantly increasing cut-rate and disc life. For maximum dust extraction, use this disc with a Hookit™ Clean Sanding pad and a random orbital sander with vacuum (both sold separately). When used with a 3M™ Clean Sanding Disc Pad, the disc holes do not require alignment with the pad holes, making switching the discs fast, easy, and convenient.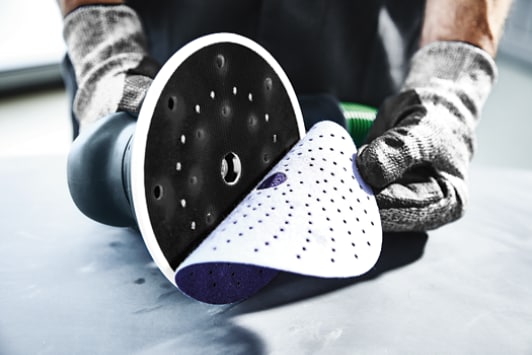 Hookit system shown on another high quality 3M abrasive disc
About Our Hookit™ Attachment System
The Hookit™ hook-and-loop feature makes disc attachment, removal, and re-attachment clean and easy, and facilitates use and re-use of the disc for the extent of the abrasive life. Hookit™ disc pads have J-shaped hooks of the type most commonly used in everyday hook-and-loop applications. Hookit™ disc pads grip the brushed nylon loop backings of 3M Hookit™ discs and provide a finer finish than do adhesive backed discs. The Hookit™ system is designed for work spaces where adhesive backed discs may become contaminated by dust, dirt, or flying debris.
We've Got Your Back
Our film backing on abrasive discs is a combination of science and strength — smooth, flexible, durable and ideal for refined auto body finishing work. The 3M™ Hookit™ Film Disc 260L also delivers long disc life, consistently sharp cut and superior dust resistance for better auto body operations.