3M constructed the 3M™ Trizact™ Hookit™ Film Disc 464LA with a revolutionary surface topography that channels sanding debris away from the disc, significantly reducing the chance of loading and extending the life of the disc. The 3M™ Trizact™ Hookit™ Film Disc 464LA is commonly used in transportation and automotive industries, to remove defects from paint and clear coat surfaces.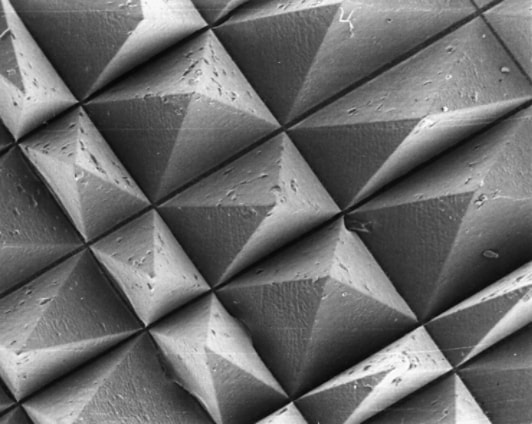 3M™ Trizact™ Abrasive surface, 50x magnification
Long Life, Consistent Cut and Sustained Performance
3M™ Trizact™ abrasives start sharp and stay sharp, resulting in more predictable finishes and improved, consistent quality. We create 3M™ Trizact™ Hookit™ Film Disc 464LA using microreplication technology. 3M™ Trizact™ abrasives feature an engineered surface of microscopic, three-dimensional structures resembling pyramids. Common applications include removing defects in paint and clear coats to prepare for final polishing.This silicon carbide mineral cuts sharp while still leaving a fine finish on these sensitive surfaces.
Hookit™ Attachment Helps Enhance Productivity and Throughput
3M offers a complete line of hook-and-loop style 3M™ Hookit™ discs for workspaces where adhesive backed discs may become contaminated by dust or dirt. Hookit sanding discs conveniently attach to a hook-and-loop backup disc pad (sold separately), can be removed cleanly and easily, and can be re-used repeatedly for the extent of the abrasive life.
3M™ Science and the Power of Trizact™ Abrasives
3M pioneered the use of tiny, precisely shaped structures to give materials new physical, chemical or optical properties. This cycle of mineral renewal sustains the abrasive's sharpness. Ongoing sharp cutting action reduces the need to swap out the abrasive, contributing to higher throughput, increased productivity and a consistent cut.
3M began as an abrasives manufacturer. For more than a century, we have refined our original technologies and complemented them with breakthrough inventions developed by other 3M businesses. Today, our abrasives rely on traditional strengths such as adhesives and coating, as well as the most modern technologies, from micro- and macroreplication to ceramic and nonwoven materials. The result is a comprehensive range of abrasives that shape, finish and polish with ease and precision.
Learn more about 3M™ Trizact™ Film
(PDF, 998.6 Kb)