3M™ Hookit™ discs are easy to change and reuse, maximizing utility for the life of the disc
Aluminum oxide mineral is durable, cuts fast, and performs well on many surfaces
Open coat helps to reduce loading
Light A-weight paper backing is suitable for finishing
Load-resistant coating prevents clogging to optimize cut and disc life
3M™ Hookit™ Gold Paper Disc 216U is constructed of aluminum oxide on a light-weight paper backing and is suitable for finishing applications with a random orbital sander on wood as well as primer, paint, sealers, topcoats, fiberglass, and plastics. Open coat construction and a load-resistant coating help prevent clogging of the disc to optimize cut and prolong disc life.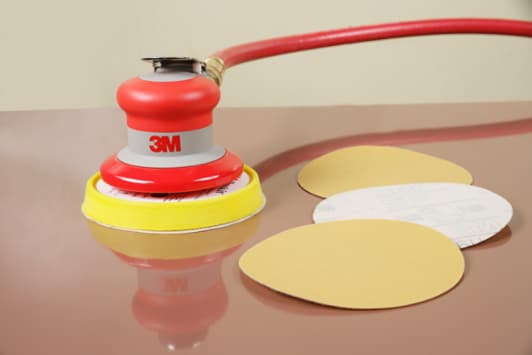 3M™ Hookit™ Discs are attached using a convenient hook-and-loop system
Quick, Easy Tool Attachment
Our 3M™ Hookit™ (hook-and-loop) attachment system makes disc changes fast and easy, meaning the disc can be used again and again for the extent of the abrasive life.
Open-Coat Construction Helps Minimize Loading
Sandpaper discs cut better and last longer when dust isn't loading the cutting surface of the abrasives. Open coat construction means the abrasive grains are placed with space between them to help evacuate sanding dust and avoid clogging the cutting edge of the grains. The load-resistant coating also allows the disc to continue cutting even when sanding softwoods, paints, and other materials that would, otherwise, clog the disc and hinder sanding ability. Together with the 3M™ Hookit™ backing, these features add up to increased productivity and reduced material consumption.
We chose aluminum oxide abrasive, which is a popular choice among industrial professionals because of its fast cut-rate and long life. This mineral makes a tough, durable abrasive that self-fractures to expose fresh cutting edges. Aluminum oxide is suitable