Scotch-Brite™ Light Grinding and Blending Disc uses a ceramic abrasive grain blend to achieve a high cut-rate for optimal weld grinding and blending in mild-steel applications. In these instances, Light Grinding and Blending discs are designed to effectively blend and refine a grade 36 scratch or finer.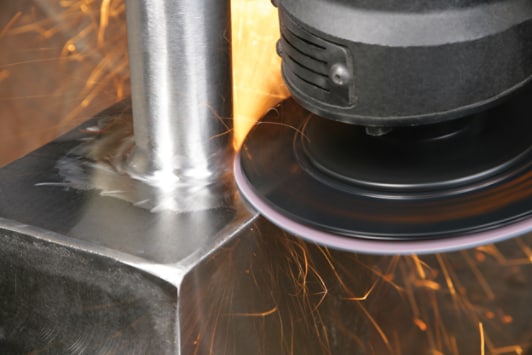 Edge blending on metal surface
Additionally, Light Grinding and Blending discs can often single-handedly prepare surfaces for painting, where a 3 mil or greater paint thickness is being applied, without adding a final dual-action sanding step.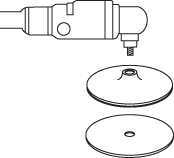 Our 3M™ ceramic aluminum oxide abrasive blend is a ceramic mineral designed using one of our proprietary processes to enhance toughness and hardness of the grain for a higher level performance. 3M ceramic aluminum oxide abrasive is engineered to fracture frequently and surpasses aluminum oxide abrasives in both cut-rate and durability. Perfect for moderate to heavy stock removal as well as finishing, ceramic abrasives are built to cut fast and handle intense heat and stress applications.
Scotch-Brite™ abrasives are unique surface conditioning products with abrasives incorporated into non-woven fiber matrix. Combining abrasives and non-woven material creates an abrasive system that delivers consistent results for the life of the product. The open-web material runs cool and is load resistant, which keeps the abrasive minerals cutting at high performance by limiting clogging of the fibers.
We offer a complete line of hook-and-loop style 3M™ Hookit™ discs for work spaces where adhesive backed discs may become contaminated by dust, dirt, or flying debris.
Learn more about 3M™ Industrial Products for Metalworking
here.
(PDF, 10.6 MB)