3M™ Diamond Cloth Disc 674W grinds and polishes hard-to-grind materials, providing long lasting, consistent results. Diamond mineral is resin-bonded to a durable, water-resistant cloth backing for dry use or use with coolants. Use this diamond disc on ceramics, carbides and hard coated materials.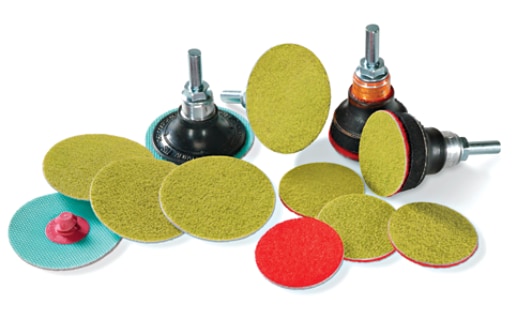 3M™ Diamond Cloth Disc 674W provides optimal performance when run wet, but can also be run dry
Longer-Lasting, Keeps on Cutting
In 120 and 220 mesh grades, our 3M™ Diamond Cloth Disc 674W provides long-lasting cutting performance when used for finishing ceramics, carbides and hard coated materials.
Compared to flexible metal bond diamond sanding discs, 3M Diamond Cloth Discs 674W last longer and deliver a faster, more consistent cut. They generally will provide more consistent finishes as well.
Use Wet for a Finer Finish and Longer Abrasive Life
While it can be run dry, you can achieve optimum results using this diamond disc with a coolant. Water is desirable when grinding or polishing with diamond abrasives, as it generally extends the abrasive life. And it can be used with oil- and water-based lubricants for lower grinding temperatures.
Recommended Applications
3M™ Diamond Cloth Disc 674W is an excellent choice for finishing and dimensioning a variety of hard-to-grind materials, including tungsten carbide and chrome carbide, thermal sprays, yttria-stabilized zirconia and alumina ceramics, and carbon fiber epoxy composites.
It also easily removes coating oversprays and coatings prior to part refurbishment.
Learn more about abrasive solutions for tough processing challenges
(PDF, 11.6 Mb)
A Portfolio of Abrasive Systems Solutions
rom specialty abrasives designed for a highly specific purpose to versatile, jack-of-all-trades sheets, you can find an abrasive tool to accomplish your task or perfect your system. At 3M, we draw from a wealth of original technologies and breakthrough inventions to provide a broad portfolio of abrasives that shape, finish and polish with ease and precision.
Learn more about superabrasive products
(PDF, 2 Mb)