3M™ Hookit™ Microfinishing Film Disc 268L is a fast-cutting abrasive for precise, uniform, close-tolerance finishes. An aluminum oxide mineral is resin-bonded to a 3 MIL, high-strength polyester film backing for durability. This disc is ideal for defect repair and leveling, paint prep and final finishing.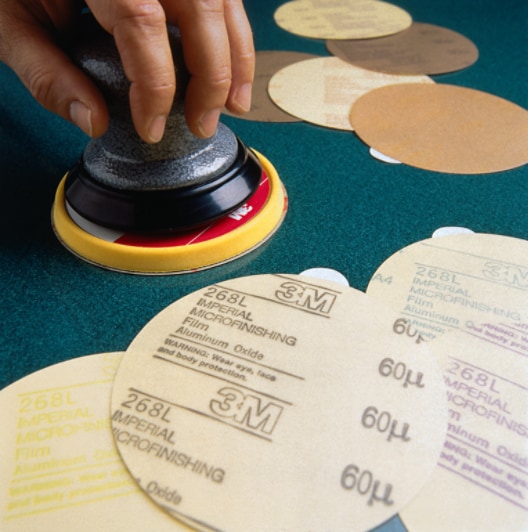 Precision, micron-graded, polyester film backing
Achieve Close-Tolerance Finishes
3M™ Hookit™ Microfinishing Film Disc 268L is designed to enable operators to achieve precise, controlled, close-tolerance finishes on surfaces from metals to plastics to wood. This product features precision, micron-graded aluminum oxide, resin-bonded to a high-strength, resilient polyester film backing. Aluminum oxide is desirable among industrial professionals for its fast cut-rate and long life.
Aluminum oxide is suitable for a wide variety of materials in both
woodworking
(PDF, 20.55 Mb) and
metalworking
(PDF, 73.23 Mb), including ferrous alloys. It cuts aggressively without significantly altering part geometry, which is great for applications like finishing and paint prep — when you want to maintain the part's original shape.
Available in a wide range of grades, these discs are color coded for easy selection of grit and reduced risk of error.

Run Wet or Dry
These film-backed discs are water resistant, so they can be run wet or dry. Coolant generally extends abrasive life, increases cut rate and prevents loading. The high- strength, film backing maintains its strength and flexibility when paper will degrade when run wet, which makes it an excellent choice for use on a variety of woods and automotive applications.
Focus on the Task, Not the Tool with Hookit™ Attachment
Microfinishing Film 268L utilizes 3M™ Hookit™ hook-and-loop attachment system which allows the operator to focus more on the task and less on tool. 3M™ Hookit™ products are manufactured with loop material that attaches to a backup pad (sold separately) where tiny hooks firmly engage the loops.
Find More 3M Accessories for Abrasive Products
(PDF, 4.29 Mb)
Attachment is quick, easy and secure. Sanding, finishing, and surface conditioning products with the hook-and-loop attachment and removal system are efficient for working through multi-step finishing processes and are ideal for environments where dust and debris is common. Abrasive products with a Hookit™ attachment can be used again and again for the life of the abrasive, unlike pressure-sensitive adhesive attachments.
Learn More about 3M™ Clean Sanding Products
(PDF, 4.71 Mb)
Application
Product
Mineral Type
Backing
Weight
Load-Resistant
Gel Coat
Composites
Solid Surface
E-Coat
Primer/Paint Prep
Wood
Metal
In-Stock Products
216U
Aluminum Oxide
Paper
A
X
236U
Aluminum Oxide
Paper
C
X
360L
Aluminum Oxide
Film
3 mil
375L
Aluminum Oxide
Film
3 mil
X
732U
Ceramic and Aluminum Oxide Blend
Paper
C
735U
Ceramic and Aluminum Oxide Blend
Paper
C
X
752I
Ceramic and Aluminum Oxide Blend
Paper
E
775L
Ceramic and Aluminum Oxide Blend
Film
3 mil
900DZ
Ceramic
Cloth
J
KUT Products (Made to Order)
210U
Aluminum Oxide
Paper
A
268L
Aluminum Oxide
Film
3 mil
366L
Aluminum Oxide
Film
3 mil
X
426U
Silicon Carbide
Paper
A
X
468L
Silicon Carbide
Film
3 mil
751I
Ceramic and Aluminum Oxide Blend
Paper
E
763U
Ceramic and Aluminum Oxide Blend
Paper
F