3M™ Dynamar™ Polymer Processing Additive FX 9613 is a free-flowing granular form of fluoropolymer. This PPA is designed for use at low levels to improve the processing of thermoplastics. The processing additive reduces or eliminates die build-up, melt fracture, waste and equipment downtime.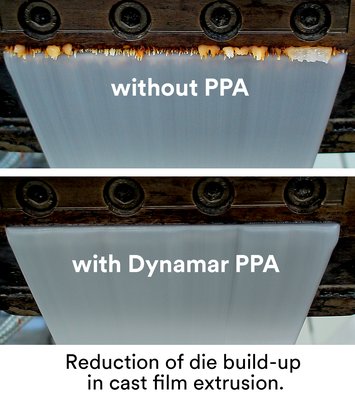 At the low use levels (typically 400 —1000 ppm) necessary to improve processing, 3M™ Dynamar™ Polymer Processing Additive FX 9613 does not alter or detract from the mechanical properties associated with high strength plastics. Dynamar FX 9613 exhibits exceptional commercial utility in low melt index film grade polyolefins such as linear low-density polyethylene (LLDPE) and higher molecular weight, high-density polyethylene (HMW-HDPE) resins. This product is especially effective in polyolefin resins containing basic additives, such as hindered amine light stabilizers.
As a polymer processing additive, Dynamar FX 9613 can reduce or eliminate melt fracture and can reduce extruder torque. Through optimization of the extrusion process, the use of Dynamar FX 9613 may also allow an increase in output and yield films with enhanced and balanced bi-directional physical properties and improved clarity and gloss. It can also be used at low levels to reduce extruder die build-up when processing linear low-density polyethylene (LLDPE), ethylene vinyl acetate (EVA) and other polyolefin resins. Dynamar FX 9613 reduces extrusion pressure and permits processors to use high strength resins which otherwise could not be processed on available equipment. With the aid of this product, fabricators can produce films and other articles of improved strength and quality.
Blown Film Extrusion
With high performance polyolefins such as LLDPE, and mLLDPE, leading to exceptional film properties, a variety of process issues may occur: melt fracture (commonly know as "sharkskin"), die build up, gel formation, surface defects and other issues. PPAs provide a solution for the majority of these processing problems.
Cast Film
Higher processing temperatures and/or shear rates are typically employed in cast film extrusion. Consequently, die build-up can be an issue, resulting in film defects and requiring frequent machine downtime for die cleaning. The addition of small amounts of 3M™ Dynamar™ Polymer Processing Additive FX 9613, typically at lower loadings than used for blown film, will delay the onset of deposition at the die exit. Levels of 300 ppm or lower can provide significant productivity improvements.
Add a Little, Get a Lot!
3M™ Dynamar™ Polymer Processing Additives (PPAs) are a family of high-performance products designed to enhance the extrusion of various thermoplastic polymers, improving quality and output. For many years, manufacturers of extruded products have depended on Dynamar PPAs to reduce or eliminate die build-up, melt fracture, gel formation and other common processing issues.
With efficiency in mind, users can add a small amount of Dynamar PPAs to get the desired result. At low concentration levels, this product can help increase throughput and processing efficiency — even for tougher, high viscosity resins. In addition, by reducing surface defects, Dynamar PPAs deliver a smoother, glossier final product while minimizing waste — helping manufacturers maximize efficiency.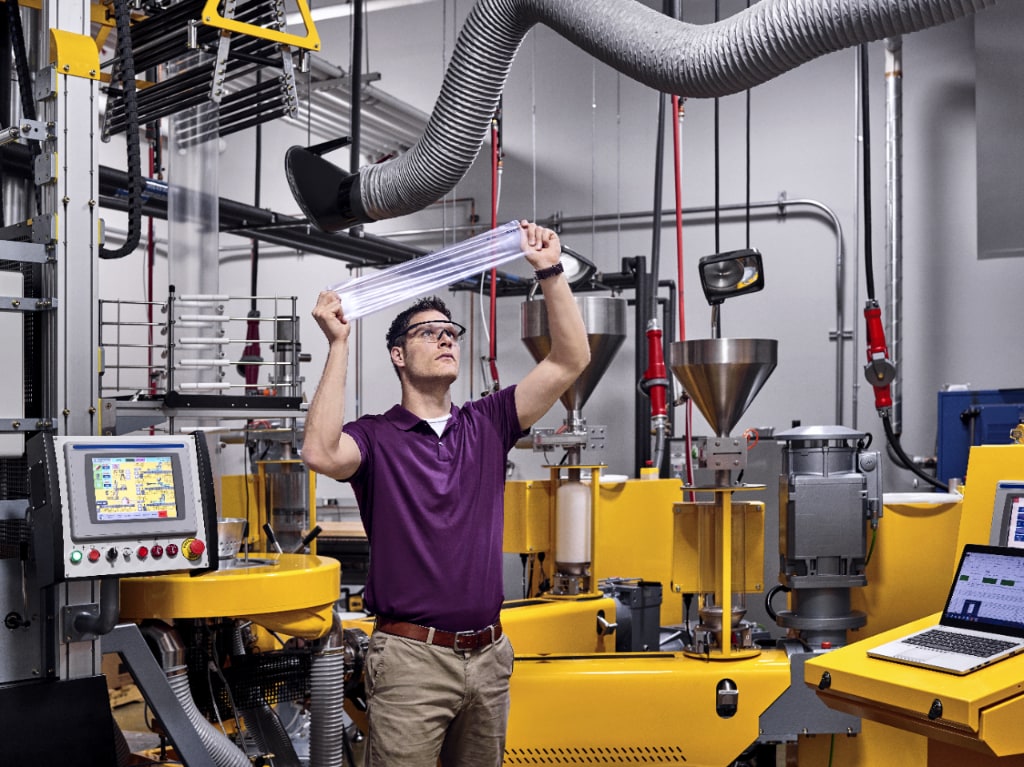 Reduce or eliminate die build-up, melt fracture, gel formation and other common processing issues
Typical Applications for FX 9613
Blown and cast film
Pipe extrusion
Sheet extrusion
Compounding
Cable and monofilament extrusion
Tape and fiber extrusion
Blow molding