Both tough and pliable, Standard Abrasives™ Buff and Blend Mounted AP Flap Brush is a good match for medium duty cleaning applications on parts with irregular or intricate shapes. The soft AP material works well for medium duty cleaning, and antique finishing on a variety of metals, including ferrous alloys, and the mounted brush securely attaches to small straight tools with ease.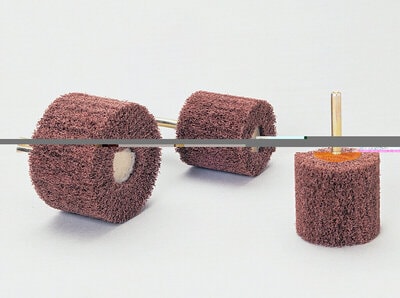 Allows removing surface contaminants without eliminating critical detail or gouging the work piece
Increased Pliability for Ridges, Contours, and Irregular Surfaces
The Standard Abrasives™ Buff and Blend Mounted Flap Brush balances an aggressive cut with softness and pliability. The thinnest and most pliable of the Buff and Blend non-woven materials, AP material is designed for removing small metal burrs, scratches and contaminants in hard-to-reach areas or places where cleaning may be difficult due to an irregular-shaped surface.
The spongy, open web is flexible, responsive and conforms to irregular surfaces. Using Standard Abrasives™ Buff and Blend discs, wheels and brushes, operators can tackle ridges and contours with less concern about gouging or marring the substrate, thus reducing waste and the need for rework.
Medium Grade Aluminum Oxide Works Efficiently
This flap brush is made with tough, sharp-cutting aluminum oxide mineral. The medium grade (MED) brush delivers a somewhat coarse scratch pattern, suitable for satin or matte finishes. When you need a product that is more aggressive than a flap brush, choose a Standard Abrasives™ Combi-Wheel or Flap Wheel.
Consistent Finishes, Operator Comfort
Flap brushes produce a consistent finish which does not reflect lines commonly attributed with ganged arbor hole discs. Density, pressure and angle determine the ability of the flap brush to remove burrs, oxidation and handling marks. The abrasive material provides ventilation which helps dissipate heat and, therefore, runs cooler. This provides consistent finishes and reduces the risk of smearing or otherwise discoloring the work piece. Minimal vibration can reduce chattermarks on the workpiece and can lead to less operator and machine fatigue.
The permanently affixed 1/4" shank enables convenient use on small straight pneumatic and electric grinders, and provides smooth running and ease of control for off-hand operations.
Load-Resistant Construction Boosts Life and Performance
Standard Abrasives™ Buff and Blend products are load-resistant to keep you cutting with fresh mineral. The gaps in the open web allow unwanted swarf to escape. Consequently, less debris clogs the abrasive, so the mineral can stay fresh, keep cutting sharp and deliver a consistent cut over the life of the product. As the fibers break down and fresh mineral is exposed, it reduces the likelihood of dull or blunt mineral smearing the surface, contributing to cleaner surfaces and less re-work. Furthermore, manual fatigue that may result from applying heavy pressure to a dull abrasive is reduced.
The Many Benefits of Standard Abrasives™ Buff and Blend Products
Standard Abrasives™ Buff and Blend products invigorate deburring, cleaning, blending and finishing applications by helping operators reduce finishing steps, minimize costs and achieve greater throughput. Each Buff and Blend product and grade offers unique benefits, so operators can choose from a versatile range of options to ensure superior performance on specific applications.
Learn more about Standard Abrasives coated, bonded & non-woven product line
(PDF, 300 Kb)