Scotch-Brite™ XDR Clean and Strip Bonded Cleaning Brush effectively cleans metal and is a trusted abrasive for your most heavy-duty cleaning applications.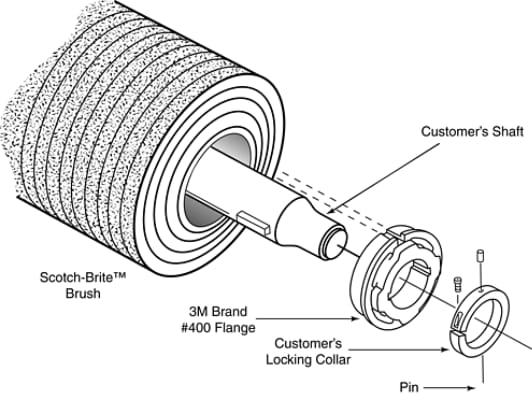 Steel core adds durability
Durable Construction Around a Steel Core
We create Scotch-Brite™ cleaning brushes by attaching abrasive discs to a cylindrical core and binding them together with resin. The individually bonded discs make our Scotch-Brite™ XDR brushes more durable, providing 2 to 3 times longer life than standard Scotch-Brite™ cleaning brushes. We construct our flap and cleaning brushes differently, so they may be used for different applications. Typical applications for our cleaning brushes include coil cleaning prior to coating, deburring, scale and oxide removal and reclaiming sheet and coil. Scotch-Brite™ XDR Brushes have steel cores, so the brush stays sturdy when run on finishing equipment. The steel core adds a level of durability to the wheel.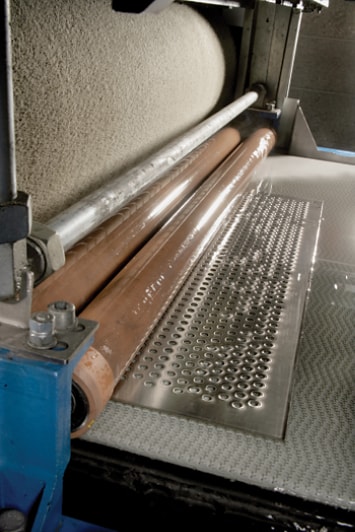 Ideal for use on coil stock, sheet stock and flat parts
Flexible Fibers Deliver a Sharp Cut
Our Scotch-Brite™ XDR Clean and Strip Bonded Cleaning Brush is made with silicon carbide mineral interspersed on synthetic fibers. Silicon carbide is sharp and hard, which makes it a good match for cutting hard materials like metal. The buoyant, open web construction of the fibers makes the abrasive more responsive. Our Scotch-Brite™ XDR brushes are a good match for cleaning flat surfaces, because they will smooth surface irregularities without sacrificing the geometry of the part. Additionally, the open web resists loading by limiting clogging of the fibers and keeps the mineral cutting sharper longer.
Use with Coolant
We recommend using a lubricant or coolant when cleaning. It helps wash away swarf and reduce loading on the abrasive, which, subsequently, extends brush life and enhances performance.
Note: When ordering a bonded construction cleaning brush, please allow an additional 1-1/4" to provide clearance for the 5/8" lock collars located at both ends of the brush. For instance, if you require 40" of usable brush width, order a 40" wide brush. This brush, however, when measured at the core will actually be 41-1/4" including the lock collars.
To learn more and select the best cleaning brush for your application, check out our easy-to-use
Scotch-Brite™ Cleaning and Flap Brushes Selection Guide.
(PDF, 2.70 MB)