The Scotch-Brite™ Clean and Finish Bonded Cleaning Brush is designed for light-duty finishing and oxide or stain removal. This product is made of discs bonded to a steel core, a superior design that makes work safer, quicker and more efficient.

Bonded and reinforced for extended durability in tough, high-wear, heavy duty applications
Our Scotch-Brite™ Clean and Finish Bonded Cleaning Brush has abrasive mineral options of talc, silicon carbide and aluminum oxide and offered in 3, 5, and 7 density: soft to hard. Brushes are offered in varying make-to-order widths — 18 inches to 80 inches.
When cleaning or finishing sensitive surfaces, it's necessary to ensure that the work surface remains unharmed. Damage clearly undermines quality, making products less aesthetically pleasing or possibly rendering them unusable. We've created an effective tool that allows you to complete necessary cleaning or finishing without damaging the finished product. The brush's construction helps protect the base material, allowing for more effective brush energy transfer and greater control.
Open web construction offers a number of benefits. The open web construction protects surfaces while resisting particle loading, contributing to a longer abrasive service life. The open web is responsive and adaptable to surface irregularities, effectively finishing or cleaning the surface without altering its geometry. Open web construction also leads to improved user safety. Unlike wire and fiber bristles, the non-metallic, open web construction of Scotch-Brite brushes eliminates sharp wires and bristle fragments flying off the brush.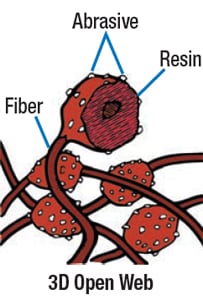 abrasive particles are resin-bonded to resilient synthetic fibers
The Scotch-Brite Advantage
The Scotch-Brite™ Clean and Finish Bonded Cleaning Brush is part of an extensive, versatile family of high-performance performance brushes. These products offer an alternative to conventional bristle brushes and messy, technique dependent buffing compounds. Our long-lasting, precision-made cleaning brushes give you improved consistency and greater control over a number of critical metal prep and finishing tasks, including cleaning, stripping, deburring, polishing, aesthetic finishing and more.
Engineered using proprietary 3M non-woven materials technology, Scotch-Brite brushes are available in a wide range of grades and brush constructions. This gives users the ability to tailor brush performance to your specific application requirements — unlike "all-purpose" brushes that may compromise quality, consistency or durability; and because they provide more contact with the work piece than bristle-type brushes, Scotch-Brite brushes last longer and run faster to help you achieve higher throughput.
Note: When ordering a bonded construction cleaning brush, please allow an additional 1-1/4" to provide clearance for the 5/8" lock collars located at both ends of the brush. For instance, if you require 40" of usable brush width, order a 40" wide brush. This brush, however, when measured at the core will actually be 41-1/4" including the lock collars.
Recommended Applications
Cleaning
Light-duty finishing
Oxide or stain removal
Learn more about Scotch-Brite™ Cleaning and Flap Brushes
(PDF, 2.70 MB)