Easy-thread on/off attachment
Available in a range of grades and minerals to suit different applications
Good for sating finishing and blending
Open web is load resistant, prolonging abrasive service life
Open web is spongy and responds to surface irregularities of the part
Scotch-Brite™ Match and Finish Flap Brush is your primary choice when conformability and a very uniform finish is critical. This brush may be used for a variety of finishing applications, from satin finishing on stainless steel fabricated components.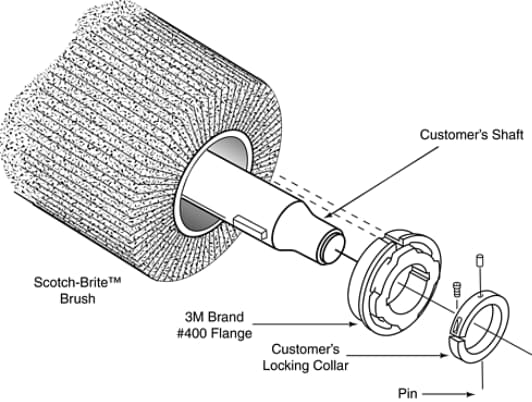 Easy Attachment
Scotch-Brite™ Match and Finish Flap Brush may be used on the 3M 1HP Match & Finish Sander (sold separately) and is available in 5/8-11 threaded inserts for easy thread on/off attachment as well as a 4-way keyway attachment system.

Under normal use (abiding by recommended RPM), the Scotch-Brite™ Match and Finish Flap Brush minimizes chatter risk. As the brush spins, flaps rotate centrifugally and make continuous contact with the workpiece. By lapping the surface, the flaps reduce the residual traces or marks that tend to be left by singular discs or discs ganged on a shaft.

Mineral Performance Comparison

Nonwoven
Finish
Flap Brush 5A XCS
HS Flap Brush 7A CRS
HS Flap Brush 7A MED
Flap Brush 5A MED
Flap Brush 5S MED
Flap Brush 7A VFN
Coarser
Finish
MORE
AGGRESSIVE
Combi
Finish
Combi Brush Grade 60
Combi Brush Grade 100
Combi Brush Grade 150
Scotch-Brite™ Flap Brushes: The Final Step
Welding, bending, stamping and other fabrication processes can seriously mar the mill finish of stainless steel and other metals — requiring a lot of time and many tricky, painstaking steps to restore the finish to its original condition.

These abrasive brushes are often the last step in a series — ushered in to a sequence when the surface is ready for a final finish. For weld blending and finish restoration, flap brushes may be preceded by other abrasives like a fibre disc for leveling the weld and a belt that sets the grain.

With a little practice, users can "feather" in and out of the repair area with their flap brush, reducing chatter and marks. Some flap brushes are more durable, whereas others are more aggressive. Depending on the desired finish, users might opt for a more or less aggressive grade.

The Many Benefits of Open Web Abrasives
Nonwoven technology makes our Scotch-Brite™ industrial abrasives unique. Scotch Brite material combines fiber strands, resin and abrasive mineral forms a thick, open web. The spring-like nature of the fibers responds to contours and effectively removes unwanted burrs, soils, and contaminants while maintaining the geometry of the workpiece, which in turn reduces rework and boosts productivity. Gaps in the web allow swarf to escape, so debris does not clog the mineral. Fibers in the web continually break down with use to reveal fresh mineral for exceptional consistency, superior cut performance, and extremely long service life. Scotch-Brite products not only enhance productivity, but also increase operator safety by reducing the need for cleaning chemicals and pastes, and replacing wire brushes that can break off and cause injury. From aesthetic finishing to weld blending, deburring, and more, Scotch-Brite abrasives work fast and deliver consistent results, part after part.