Reduce final part weight by 15% or more without compromising mechanical integrity of finished product
3M's highest strength-to-density ratio glass bubble survives high shear, high pressure processes like injection molding and extrusion
Faster cooling times of melt processed polymers (injection molding and extrusion), typically 15-25% cycle time improvement
Improved dimensional stability and reduced warpage and sink marks
3M™ Glass Bubbles iM30K will change the way you think about plastic parts. This product has a density of 0.60 g/cc and an excellent isostatic crush strength of 27,000 psi, providing an additive with a superior strength-to-density ratio for use in injection molding extrusion and sheet molding compounds. They can reduce final part weight by 15% or more without compromising mechanical integrity.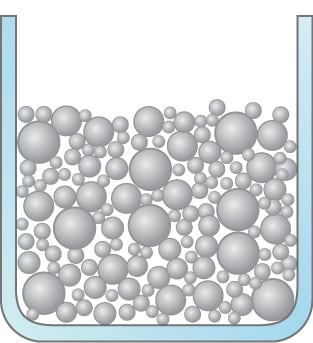 Filler loading
What are 3M™ Glass Bubbles?
Our 3M glass bubbles are engineered hollow glass microspheres that are alternatives to conventional fillers and additives such as silica, calcium carbonate, talc and clay. These low-density particles are used in a wide range of industries for many demanding applications to reduce part weight, lower costs and enhance product properties.
Learn more about 3M™ Glass Bubbles
(PDF, 1.2 Mb)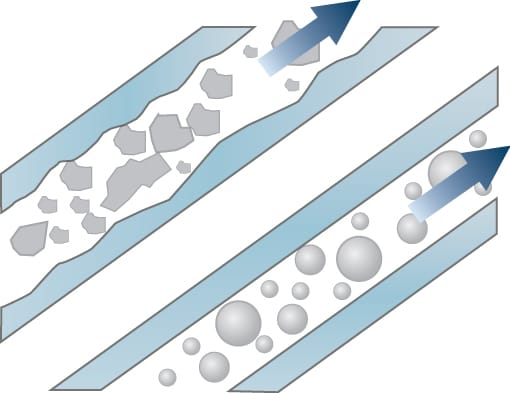 Lower Viscosity
The spherical shape of 3M glass bubbles offers a number of important benefits, including: higher filler loading, lower viscosity/improved flow, and reduced shrinkage and warpage. Additionally, the spherical shape helps the glass bubbles readily blend into compounds, making them adaptable to a variety of production processes, including spraying, casting and molding. They also offer greater survivability under demanding processing conditions, such as extrusion, injection molding and other high shear mixing processes.
The chemically stable soda-lime-borosilicate glass composition of 3M glass bubbles provides excellent water resistance. These bubbles are non-combustible and non-porous, so they do not absorb resin; and their low alkalinity gives 3M glass bubbles compatibility with most resins, stable viscosity and long shelf life.
Typical Applications
Injection molded parts
Class A sheet molding compound
Automotive
Recreational vehicles
Heavy-duty trucks
Extrusion profiles
Electronics
Rubber parts
Sporting goods
Construction material
Concrete