3M™ Rust Preventer Spray features a unique corrosion resistant chemistry that works to help stop rust before it starts. The specialized spray wand helps you get into tight areas and crevices that you wouldn't be able to access otherwise. With 3M™ Rust Preventer Spray you can have peace of mind that it's working to protect and preserve your vehicle from rust.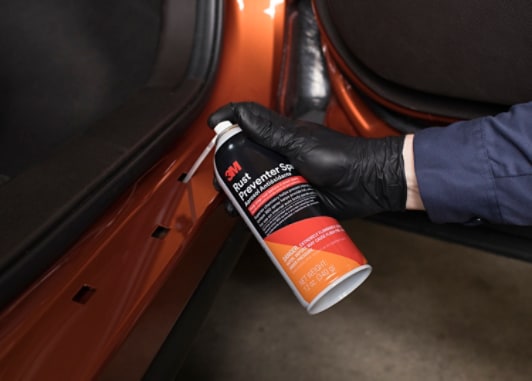 3M™ Rust Preventer Spray has a flexible wand that helps access hard-to-reach areas
Protect Your Vehicle from Rust Before It Starts
Don't leave your vehicle vulnerable to the damaging effects of rust. 3M™ Rust Preventer Spray offers a simple yet effective way to add a layer of protection against rust before it starts. Better yet, our rust preventer works in concealed spots that you can't see but where rust often starts. Here's how rust typically starts: moisture gets inside a panel, creating the perfect condition for rust to develop. To the typical car owner, the unknown problem is out of sight and out of mind, until the day that the rust works its way out to the exterior of the vehicle. But by that time, the rust has spread, requiring extensive auto body repair.
Rust Can't Hide with Our Easy to Use Application System
It's easy to put the corrosion resistant chemistry of 3M™ Rust Preventer Spray to work in hard-to-reach locations. An application wand allows you to spray our rust protector anywhere there is an access point to interior spaces. A 360-degree spray pattern helps provide full, uniform coverage to maximize protection. We suggest repeating the application two or three times to help ensure good coverage.
Recommended 3M Rust Preventer Spray Applications
Door Bottoms
Rocker Panels
Wheel Arches
Hoods
Deck Lids
Note: We do not recommend applying this product to moving parts, window tracks or exhaust systems.
Keep Your Vehicle Looking New
There's no doubt about it. Rust on your vehicle is a major eye sore and lowers its value. That's why you want to protect it today with 3M™ Rust Preventer Spray. A small investment in protection today can benefit you tomorrow.
Using Science to Make Auto Care Easier
3M applied principles of science to develop a product that retards the chemical process of rusting. Next, we packaged our rust preventer in a way that makes it easier to deliver the product where it is needed most. It's all part of the 3M mission to make automotive care easier for you.
Learn more about 3M automotive care
(PDF, 6.39 Mb)