Adhesive 200MP provides exceptional temperature and chemical resistance for use in tough application environments
Thin 0.5 mils (.013 mm) clear polyester (PET) film carrier adds dimensional stability for improved handling
Withstands high humidity conditions with minimal cockling or wrinkling
Performs well in temperatures up to 300ºF/149ºC short term and 250ºF/121ºC long term
3M™ Double Coated Tape 9495MP provides high initial adhesion and good holding power on a variety of substrates. The thin, polyester film carrier offers dimensional stability and improved handling during slitting and die cutting.
Graphic overlays
Nameplates
Thermal and sound damping
Gasket and lens attachment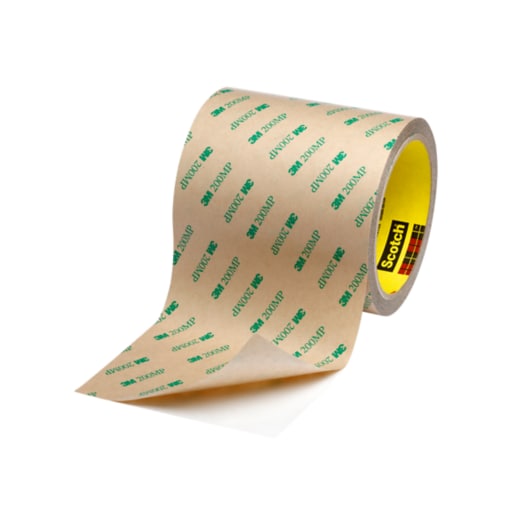 Adhesive 200MP provides exceptional temperature and chemical resistance
Features 3M™ High Performance Acrylic Adhesive 200MP
More than 30 years ago, 3M High Performance Acrylic Adhesive 200MP set the standard for bonding metal and high surface energy plastics. Today, this adhesive provides even higher levels of performance, with exceptional peel and shear strength for precision bonding, layflat liners that virtually eliminate curling, and an air-release technology that help prevent trapped bubbles in your finished products.
Benefits of Adhesive 200MP include:
Virtually eliminates oozing when substrates are slit or die cut
Cleaner, neater edges help minimize waste, accelerate part processing and ensure higher quality graphics
Temporarily repositionable to improve placement accuracy and reduce rework
Air-release technology helps prevent trapped bubbles in your finished products
Double Sided Tapes Provide Solutions for Many Bonding Applications
In general, double sided (often referred to as double coated) adhesive tape is composed of a film or nonwoven tissue carrier coated on both sides with a pressure sensitive adhesive. These adhesive tapes can be applied by hand or with a wide web laminator.
Bringing Better Ideas to the Surface through Science and Innovation
In our 3M Industrial Adhesives and Tapes Division, we apply the science of adhesion to deliver innovative solutions that improve the design and manufacturing processes of companies around the world. In the end, our technologies help customers like you deliver competitive products to the market faster and more efficiently.
Click here for more information on 3M Design Solutions.
(PDF, 45.87 Mb)