Festool IAS 3-Light AS Hoses is an anti-static hose for use with all Festool tools. This hose is designed for connecting a Festool compressed air sander to a Festool mobile dust extractor or energy box.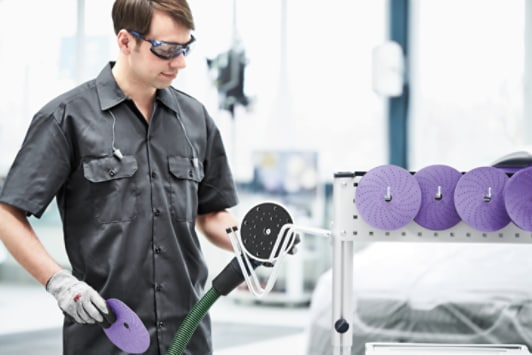 Designed for use with Festool pneumatic tools
Genuine Festool Quality
The Festool IAS 3-Light AS Hose is ideal for use with all Festool pneumatic tools. It combines dust extraction and compressed air in a single hose. The diffuse external exhaust air guide ensures flexible working while minimizing the air flow on the hands and lower arms. Anti-static properties help prevent particles from clinging to the walls of the hose.
Boost Productivity in the Shop
This hose helps automotive technicians save time and boost productivity. A 2-in-1 hose and IAS interface are easy to use and save time when changing tools. A rotating adapter ensures smooth, rapid working progress. These time savings allow technicians to work more efficiently and productively.
A Strategic Collaboration between 3M Automotive Aftermarket Division and Festool Automotive Systems
3M's Automotive Aftermarket Division spans the globe, serving the automotive collision repair industry through more than 70 subsidiaries. 3M AAD has deep industry knowledge and maintains extensive relationships with collision-repair professionals. In collaboration with Festool Automotive Systems, 3M will now offer its customers an even stronger value. 3M best-in-class abrasives innovation, including
3M™ Cubitron™ II Abrasives
, will now be offered in conjunction with premium Festool Automotive Systems surface prep tools, dust extraction capabilities and services, creating one of the most effective and comprehensive surface preparation and finishing systems in the automotive collision repair industry.
About Festool
For 90 years, Festool has been a manufacturer of premium power tools for the most demanding applications. With a well-earned reputation for innovation and quality, Festool makes power tools widely considered the best in the automotive repair marketplace, including pneumatic and electric sanders, polishers and backup pads, vacuums and surface-prep workstations. Beyond its existing products, Festool continues to develop a new line of connected "smart tools" to power the future of collision repair.
Learn more about Festool Automotive Systems
(PDF, 1.8 Mb)