Zone coated adhesive sticks to substrate without adhering to the rivet
Polyethylene backing maintains a tight hold on the rivet during the assembly process
Uncoated, transparent yellow center provides clear visibility to the rivet below
Aggressive adhesive bonds well to many surfaces, yet removes cleanly
Decreases product rework and improves efficiency
Our 3M™ Riveters Tape 695 has a polyethylene film backing and an acrylic adhesive coating along both edges of the tape. The transparent, yellow, tack-free center window improves visibility during the riveting process.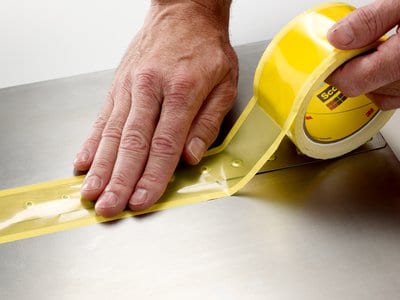 Hold rivets firmly in place
Strong Adhesion and Improved Visibility
During the riveting process, it's essential to have a tape that firmly holds the rivet in place and prevents it from moving. Our
3M™ Riveters Tape 695
(PDF, 57.7 Kb) is up to the task — holding rivets firmly in place while resisting shattering or slivering. The transparent, tack-free center window improves visibility, reducing rework and time needed to complete the riveting process. The conformable backing paired with an acrylic adhesive provides good immediate adhesion and allows for use on irregular surfaces and tight work areas.
Recommended Applications
Holding rivets in place prior to and during the riveting process