Built for high-speed tape application at conveyor speeds up to 150 fpm
Epoxy powder-coated steel construction maximizes durability
Double buffing roller action delivers up to 90% tape wet-out for consistent closure
Curvilinear roller path applies minimal pressure to cases for smooth application and throughput
Can replace taping or gluing heads in other case sealers
Our 3M™ AccuGlide™ HST Upper/Lower Taping Heads are built for competitive high-speed conversion – they can smoothly apply 48 mm Scotch™ box sealing tape at conveyor speeds up to 150 fpm. The taping heads feature a double buffing roller action for up to 90% tape wet-out and consistent application. Curvilinear design exerts minimal pressure on the cases, promoting smooth, damage-free production.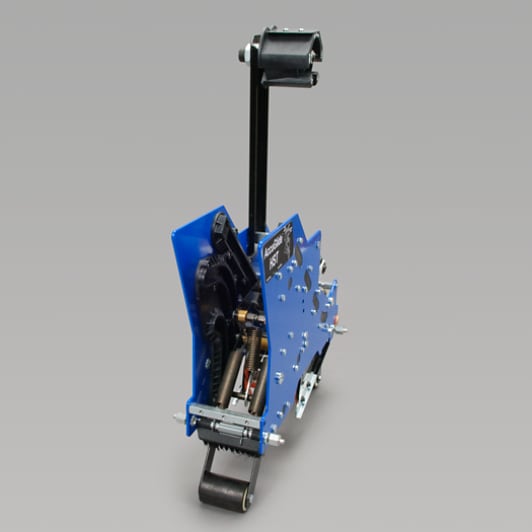 Unique precision shaft and ball bushing slide ensure precise application
High Speed Taping, Simplified
Featuring durable epoxy powder-coated steel construction and a roller design that improves tape contact even at high conveyer speeds, our 3M™ AccuGlide™ HST Upper/Lower Taping Heads are built for high-speed C-clip box sealing tape application at case speeds up to 150 ft./min. using 48 mm wide tape. These specially-designed taping heads feature a self-aligning buffing roller and a conformable buffing brush which provide a double buffing action that smooths the sealing tape onto the case. This results in tape wet-out of up to 90% and a consistent, reliable closure for SRCs and other case box and case types. 3M™ AccuGlide™ HST Upper/Lower Taping Heads feature a constant tension roller with one-way clutch, spring-driven buffing rollers and a fully-adjustable tape drum with friction brake to prevent overtravel for smooth, accurate C-clip tape application. A curvilinear tape roller path helps ensure that the sealing tape is applied securely and at low impact to help protect even lightweight cartons and contents.
Recommended Applications
Competitive high-speed conversion
Applications requiring conveyer speeds up to 150 fpm
Upper/lower or right/left side applications
3M™ AccuGlide™ HST Upper/Lower Taping Heads are ideal for use on 3M-Matic™ Case Sealer equipment, and can also replace other types of taping or gluing heads in existing case sealers.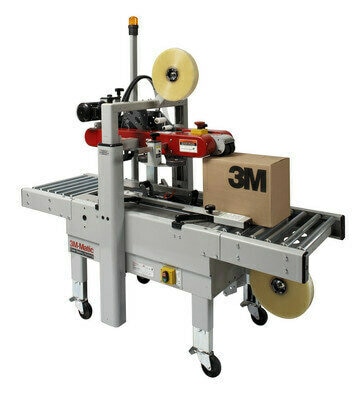 3M delivers complete packaging solutions
3M™ AccuGlide™ Taping Process
3M™ AccuGlide™ Taping Heads are usually used with 3M-Matic™ Case Sealers but can also be used in converting other case sealers or in custom equipment. A regular slotted container (RSC) is placed on the conveyor and pushed onto the drive belts of a 3M-Matic™ Case Sealer, which convey the box into the 3M™ AccuGlide™ Taping Head. The 3M™ AccuGlide™ Taping Heads applies Scotch® pressure sensitive film box sealing tape at the leading end of the box continuing along the center seam to the trailing end. The taping head also contains a blade which cuts the tape and a back roller that applies it firmly to the back end of the box. Taping heads usually function in pairs to tape two seams of a case. When they tape the top and bottom, taping heads are mounted in an upper and lower configuration. Taping heads can also be mounted for sealing a case lying on its side.
Bringing Better Ideas to the Surface through Science and Innovation
In our 3M Industrial Adhesives and Tapes Division, we apply the science of adhesion to deliver innovative solutions that improve the design and manufacturing processes of companies around the world. In the end, our technologies help customers like you deliver competitive products to the market faster and more efficiently.