0.020 inch (0.51 mm) double coated light medium density pink foam tape
Adhesive technology with low adhesion for easy demount or removal from cylinder/sleeves
Designed to be easily removed from ink contaminated print plates
Ideal for printing combinations of solids and process with halftone dots
L1920A securely bonds the flexographic photopolymer plate to the print sleeve or steel cylinder to prevent plate edge lifting during printing
Print plates mounted on L1920A will have no air bubbles under the plate or tape due to the air release feature designed into the tape
Pink color indicates light medium density foam
Grooves in the adhesive are created by a cross-hatch pattern from the release liner
Plate easily demounts from the double coated cushioned tape without adhesive residue
Tape also removes easily and cleanly from the sleeve or steel print cylinder
Flexographic printing, flexographic printers
3M™ Cushion-Mount™ Plus Plate Mounting Tape L1920A 0.020 inch (0.51 mm) double coated foam tape has the air release feature with low plate side adhesion used to mount flexographic print plates and low adhesion to sleeves.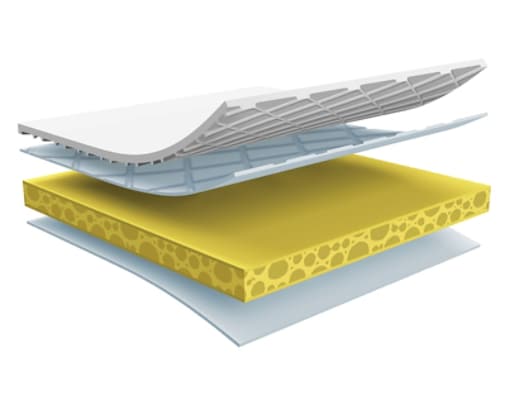 The crosshatch pattern in the adhesive layers releases air so there are virtually no bubbles that require remounting
Optimal, Consistent, Productive Flexographic Plate Mounting
3M™ Cushion-Mount™ Pro Plate Mounting Tape with Comply™ Adhesive System 21920 Pink is a pink foam tape that provides high quality light medium combination print. It has the air release feature designed into the tape to allow for bubble-free mounting and predictable, repeatable print results. This flexographic plate mounting tape is tolerant of ink contaminants and has a dependable adhesive that resists lifting on press yet removes cleanly from the print plate and the cylinder or sleeve. It is up to 78% easier to remove the flexographic photopolymer plate from this tape* and up to 54% easier to remove the tape from a sleeve** to help keep print operations productive.
*Compared to 3M™ Cushion-Mount™ Plus H‐Series Plate Mounting Tapes
** Compared to 3M™ Cushion‐Mount™ Plus E‐, H‐ and L‐Series Plate Mounting Tapes
Recommended Applications
Flexographic printing, flexographic printers
Mounting photopolymer plates to flexographic printing cylinders and sleeves
Used in combination, process and solid printing processes
3M sticky back tapes are designed for wide-web presses to print film or paper for flexible packaging industry
3M flexographic plate mounting tapes are highly engineered to provide very tight caliper tolerance to allow printers to use tape from different manufacturing lots and keep tight print registration. The compressible foam will withstand long and high-speed print runs.
This cushion tape is manufactured for 20 mil applications. It is constructed with differential acrylate adhesives. The adhesive on the linered (plate) side of the tape is designed for mounting photopolymer plates. The adhesive on the non-linered (sleeve / cylinder) side is designed for mounting to flexographic printing cylinders or sleeves, providing easy application at mounting and clean removal when demounting.
On Easy with Reduced Air Entrapment
The 3M™ Comply™ Adhesive System features a crosshatch pattern of unique micro-channels that allow air to escape more easily than from mounting tapes using a pebbled or flat adhesive surface. Air bubbles disappear from between the tape and plate, and between the tape and sleeve or cylinder for virtually bubble-free mounting. Setup is faster with smoother surfaces for cleaner print quality and higher productivity. The adhesive maintains tight contact with reduced edge lifting.
Where Science Meets Craft
Printers are passionate about every job looking the best it can. For decades, 3M products have been there helping to improve the quality of the work that goes out and the efficiency of how it gets done.