Traps dust and dirt to protect vehicles
Shields against automotive paint and primer overspray
Sprayable, water-based liquid remains tacky
Masking liquid cleans up with water
3M™ Overspray Masking Liquid is a water-based liquid that traps dust and dirt under its protective film while its tacky surface captures airborne paint and dirt. This overspray masking liquid remains tacky over time and is easily cleaned up with water. This product is recommended for application prior to painting or priming and may be applied to a variety of vehicle surfaces.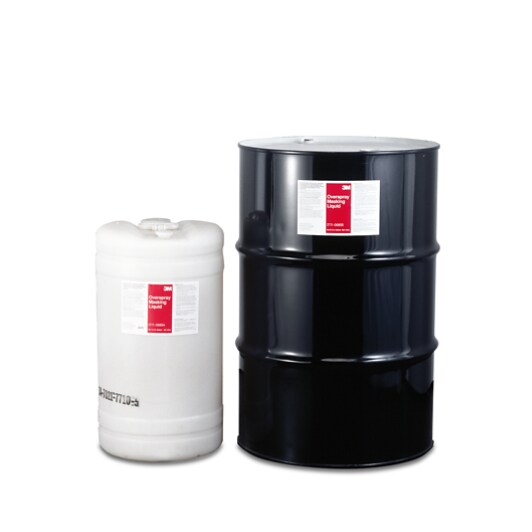 Apply directly from Drums and eliminate waste
Shield Surfaces from Overspray, Dust and Dirt
3M™ Overspray Masking Liquid is a specially designed, water-soluble coating formulated to protect vehicles from paint and primer overspray. This sprayable liquid is applied with conventional HVLP spray equipment and dries to a tacky film. Designed to prevent gentle paint overspray mist from getting on the vehicle, this masking liquid remains wet or tacky, trapping dust and dirt under its protective film and capturing paint mist, airborne dust and dirt on top of its protective film.
Unlike masking paper or plastic, 3M™ Overspray Masking Liquid effectively coats all vehicle surfaces, including wheels, grills, windshields, bumpers and body panels, which eliminates the need for additional buffing of adjacent panels to remove overspray. This masking liquid provides protection from all refinish paints and primers and can be used with bake or air dry type paints. We recommend application of this product prior to painting or priming and it may be applied to paint, glass, chrome, aluminum, plastic, vinyl and rubber.
Seals entire vehicle to prevent paint overspray from reaching undamaged panels
After product application, the vehicle may be painted immediately. Once dry, the product and overspray may be washed off with a garden hose or pressure washer. Even if left on for weeks, 3M™ Overspray Masking Liquid remains water soluble and can be washed off. If this overspray masking liquid is left on the vehicle until detailing, it may also be used in place of detergent during the final wash.
Ready to Protect
Shield vehicle surfaces with 3M™ Overspray Masking Liquid and enjoy clean, smooth results. Easy to apply and use, this masking liquid offers protection as well as simple clean-up. For the optimal final application appearance, leverage the features of a masking liquid ready to protect.
3M™ Overspray Masking Liquid
(PDF, 2.8 Mb)
Suggested Applications
Collision, Commercial Vehicle, Aerospace, Transit, or General Industrial paint masking
Paint Overspray Surface Protection
Large Area Masking