Meets FAR 25.853* for aircraft interiors and helps compliance with safety requirements
Economical corrosion protection helps reduce aircraft maintenance costs
Qualified to leading OEM aircraft specifications for aircraft moisture barrier in aircraft interiors (please validate at time of usage)
3 mil liner protects adhesive and aids installation
Tough, thermoplastic polyurethane material resists abrasion, scratching, punctures and erosion
In aerospace high performance and safety standards are non-negotiable; 3M™ Polyurethane Protective Tape 8657 is a flame retardant, wide area sealing tape for wet-area corrosion prevention, as primarily required in aircraft lavatory and galley areas. Our tough, flame retardant tape helps establish an effective barrier against fluids and is resistant to abrasion, scratching, punctures and erosion.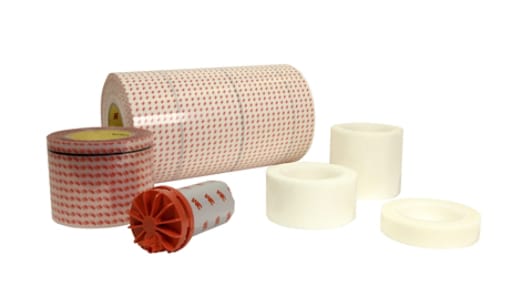 Get up to 90% corrosion reduction when using the complete 3M™ Aircraft Corrosion Prevention System
Exceptionally Tough Tape with Burn Resistance
In order to meet tough aerospace and regulatory requirements, we make 3M™ Polyurethane Protective Tape 8657 from an exceptionally tough, thermoplastic polyurethane elastomer that resists puncture, tearing and abrasion. Our tape is uniquely formulated to pass the burn resistance requirements of FAR 25.853* when tested alone or as a covering applied to floor panels.

When applied over aircraft floor panels, 8657 creates an ideal barrier against most fluids and helps prevent liquids from causing corrosion to the floor system. 8657 incorporates a specially formulated pressure sensitive adhesive for fast and easy application. Using 3M™ Polyurethane Protective Tape 8657 on floor panels can help reduce corrosion and costly replacement of stringer beams - and keep your aircraft flying. This product is supplied with a 3 mil polyethylene liner to protect the adhesive and aid with fast, easy installation. The liner also helps preserve the tape during storage and handling prior to use.

Learn More about the 3M Aircraft Corrosion Prevention System (PDF, 922.8 Kb)

Learn More:

Our Best for Your Best
3M is proud to partner with organizations across the spectrum of aerospace and related industries. Enabling efficiencies, reducing process times and lowering aircraft weight is how we execute our never-ending mission to offer best-in-class adhesives, sealants, surface protection products and composite resins that effectively reduce costs on multiple fronts. Professionals across the industry know the numerous advantages of 3M Aerospace. Our brand is widely recognized for the highest standards of quality and performance, adding value to the final results. By engineering reliability, longevity and value into all of our products, we have a history of saving money by reducing waste, rework and time.
---
Find what you need in our aerospace specification portal.
3M maintaints partnerships with every major aircraft OEM in the world. Find your spec today.
FIND YOUR SPEC