High edge durability and flexibility
Excellent starting point for finishing stainless steel to a #4 finish
Designed for blending, coating removal, finishing, and light deburring
Aluminum Oxide on RC material provides good initial and extended cut rate
Best material for general use and average pressure usage
Most efficient on flat surfaces
The Standard Abrasives™ Surface Conditioning RC Belt saves time preparing workpieces for final finishes and coatings by performing one-step prep work. Constructed with enhanced edge durability and flexibility, combined with high initial and extended cut rate, this is a great all-around belt for deburring, blending, cleaning and finishing on composites and softer metals.
Mineral Performance Comparison

Aluminum oxide cuts fast while blending and deburring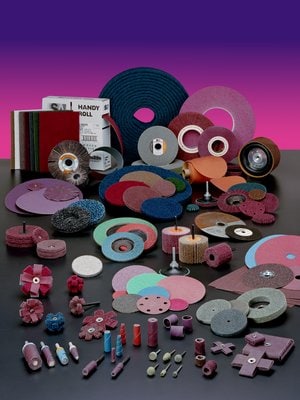 Standard Abrasives has supplied quality abrasives for over 50 years
Recommended Applications
Our Surface Conditioning FE Belt comes in many different widths and lengths for use on pneumatic sanders, portable belt sanders, backstand equipment, and floor mounted/platen sanders. Choose this belt for use on ferrous metals, softer metals such as aluminum, and composites for:
Deburring: removing large and micro burrs, edge radiusing, removing die cast flashings
Blending: removing mill marks, tool marks and mismatches, reducing uneven edges between adjoining surfaces, reorienting surface scratch patterns, creating a smooth transition from one surface profile to another
Cleaning: removing coatings, gaskets and surface discolorations from welds or other surfaces
Finishing: conditioning grind lines, reducing surface roughness, polishing welds prior to inspection, applying cosmetic grain finish
Quality Standard Abrasives™ Solutions for Industrial Applications
The
Standard Abrasives brand
(PDF, 2.9 Mb) has supplied quality abrasives to the metalworking industry for over 50 years. Customers rely on our broad offering of high performance products including coated, bonded, and non-woven abrasive lines.