The 3M™ Disc Sanders are lightweight and rugged, designed with a high power-to-weight ratio to help you get more work done in less time – and with less strain. 3M™ Gripping Material and a 97-degree angle head allow more comfort and control. Great for grinding, blending, weld leveling, metal prep and other metal fabrication applications.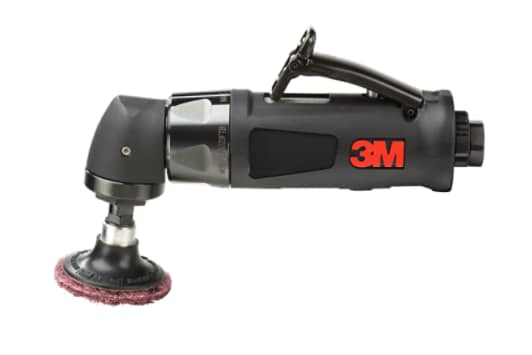 Designed to make your job faster, easier and more productive
Comfort and Versatility
3M™ Disc Sanders have a lightweight, compact design and a 97-degree head that allows for greater wrist comfort and control. They also include a comfortable, full coverage grip that absorbs vibration and moderates cold temperatures caused by air flow.
3M™ Gripping Material, provided on the hand grip area of the disc sanders, has a two-fold effect. First, it makes grip more secure. Second, it allows a more effortless grip, which over time can help reduce fatigue. Whether in wet or dry conditions, it provides a grip you can rely on.
The 1 HP disc sander features a removable and repositionable side handle to accommodate right- or left-handed use, allowing the operator to run the tool comfortably from any angle.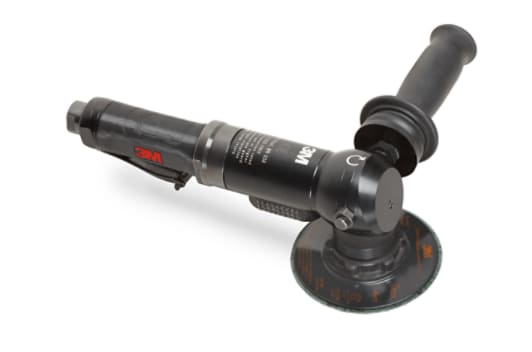 Maintain higher unit pressure without stalling
3M™ Quick Attach Systems for Deburring, Grinding, Blending, Finishing and Cleaning
For quick-change convenience and a selection of discs and accessories that can be fine-tuned for any application, you can't beat the system of 3M™ Roloc™ Discs and Backup Pads. Each disc sander provides a dual mount feature which allows direct mounting of a Roloc™ backup pad on the tool, without the typical collet assembly found on other tools. This direct mount feature provides easier control, lower tool profile, and reduced runout/vibration – all characteristics which enhance the user experience. Alternatively, use the collet mount for extended reach or for applications which require a 1/4 inch arbor/collet interface
The Right Tools to Get the Job Done
In 2- and 3-inch size models with 0.3 –1.0 HP, and maximum operating speeds from 12,000–20,000 RPM, one of our 3M™ Disc Sanders is sure to be the right one to get the job done. A complete system of professional grade tools, accessories and abrasives are designed specifically to help you tackle today's tough metalworking challenges and help you do your job right.
For optimal safety, operators should always read and follow manual safety instructions and ensure the tool's operating speed does not exceed the maximum RPM imprinted on the tool.
Learn more about 3M™ Metalworking Tools.
(PDF, 802.6 Kb)