Durable, aggressive wheel for tough blending, finishing, and deburring on harder metals like stainless steel, carbon steel, high nickel alloys
High concentration of abrasive mineral is fast cutting and consistently produces a bright finish throughout the life of the wheel
Flexible, non-woven construction provides controlled abrasive action that helps prevent undercutting or gouging
Tightly layered, unitized construction can operate in clockwise or counterclockwise directions
Scotch-Brite™ material resists loading and wears at a uniform rate to provide continuous cutting action
Scotch-Brite™ Cut and Polish Unitized Wheel is a tightly layered, durable, unitized wheel available in medium to hard densities.  The wheel works well for aggressive deburring, blending, and finishing on harder metals and for applications where portability is needed. Our wheel provides an excellent starting point for jobs requiring the availability of small diameters and narrow widths.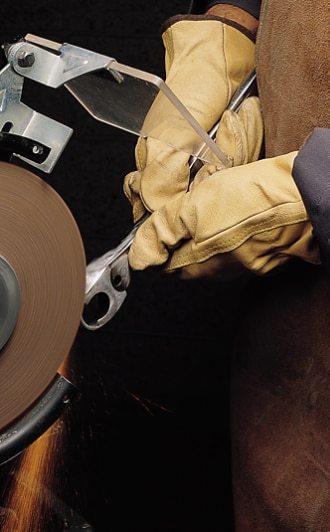 Remove Burrs, Reduce Smearing, Minimize Gouging
Use our Scotch-Brite™ Cut and Polish Unitized Wheel to replace many conventional abrasive products such as rubber bonded wheels and small set-up wheels. The aluminum oxide mineral combined with a tough nylon web is ideally suited for producing uniform results. The tightly layered unitized construction and aggressive properties produce a smooth running, fast cutting wheel that runs cool and resists loading.

Aluminum Oxide Mineral Has High Cut-Rate, Hardness and Strength
The Scotch-Brite™ Cut and Polish Unitized Wheel is filled with aluminum oxide abrasive mineral. We chose aluminum oxide because it is a popular choice among industrial professionals due to its cut-rate and long life. This mineral is a tough, durable abrasive that self-fractures to expose fresh cutting edges in use, whereas traditional abrasives, such as garnet, quickly wear down with use. Its high cut-rate, hardness, strength, and low heat retention all combine to make aluminum oxide mineral a good choice in grinding applications. Aluminum oxide is suitable on a wide variety of substrates in both woodworking and metalworking, including ferrous alloys.

The Many Benefits of Scotch-Brite™ Abrasives
Our Scotch-Brite™ industrial abrasives are unique surface conditioning products (PDF, 3.4 Mb) with abrasives incorporated into non-woven nylon or synthetic fibers. Combining abrasives with the fibers creates an abrasive system that delivers consistent results for the life of the product. The open-web material runs cool and is load resistant, which keeps the abrasive minerals cutting at high performance by limiting clogging of the fibers.