Very fine grade durable sheet roll is ideal for lightweight deburring, cleaning and finishing
Moderate conformability and dense web resist wear
Open-web construction resists loading and produces consistent finishes
Non-woven sheet conditions surfaces without affecting the geometry of the workpiece
Load resistant open web construction and excellent durability provide extended use
Sheets can be cut from the roll to fit the application
Sheets can be sized for use on a reciprocating sander
The Scotch-Brite™ Light Deburring Roll is a very fine grade sheet roll ideal for lightweight deburring and finishing on all types of metal. Moderately conformable, the dense web construction offers increased wear resistance and extended use for applications that require a less aggressive cut, such as cleaning and surface finishing.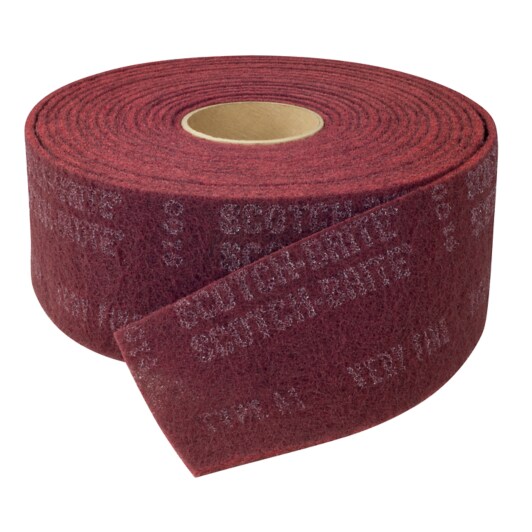 Sheets can be cut from the roll to fit the application
Conformable, Durable Blending and Burr Removal
Made with very fine grade aluminum oxide mineral, this high-strength open web sheet roll combines conformability with durability and cut—so you can deburr quickly and are left with a great finish. When you need something conformable and in a finer grade than our Light Grinding and Blending Disc to lightly clean, scuff, deburr or finish, our Scotch-Brite™ Light Deburring Disc helps you achieve a smooth, deburred surface without the use of steel wool or wire brushes. In addition to deburring, this versatile product may be used for surface prep or final finishing. Scotch-Brite conformability along with foldable sheets allows access to many hard-to-reach areas. This long-lasting, highly efficient product is also load-resistant to stand up to prolonged use and can help lower your abrasive costs while increasing productivity.

Fast Cut and Long Life
Aluminum oxide is a popular choice among industrial professionals due to its cut-rate and long life. This mineral is a tough, durable abrasive that self-fractures to expose fresh cutting edges in use, whereas traditional abrasives, such as garnet, quickly wear down with use. Its high cut-rate, hardness, strength, and low heat retention all combine to make aluminum oxide mineral a good choice in grinding applications. Aluminum oxide is suitable on a wide variety of substrates in both woodworking (PDF, 21 Mb) and metalworking (PDF, 13 Mb), including ferrous alloys.
Mineral Performance Comparison