Cuts 30% faster and lasts 2x longer than other conventional ceramic abrasives for increased productivity and a consistent repair finish
Runs cooler and requires less pressure than other conventional ceramic abrasives
Precision Shaped Grain (PSG) technology results in a more uniform finish, less rework, less refining of deep scratches
Flexible flap construction allows for grinding and blending in one
Low-pressure grinding, small weld removal, finishing and surface prep with just one disc
Triangular PSG abrasive grains are super-sharp and cut exceptionally fast
Grains are electrostatically oriented on abrasive surface for efficient cut, even wear
PSG self-fractures during use to maintain sharpness and prolong abrasive life
Our 3M™ Cubitron™ II Flap Discs is engineered for a faster cut, longer disc life and a more uniform finish vs. conventional ceramic abrasives. Flexible flaps feature our Precision Shaped Grain (PSG) technology – super-sharp triangular grains, electrostatically oriented on a flexible backing for an extremely fast, even cut. Overlapping flaps provide cushion for grinding and blending with one disc.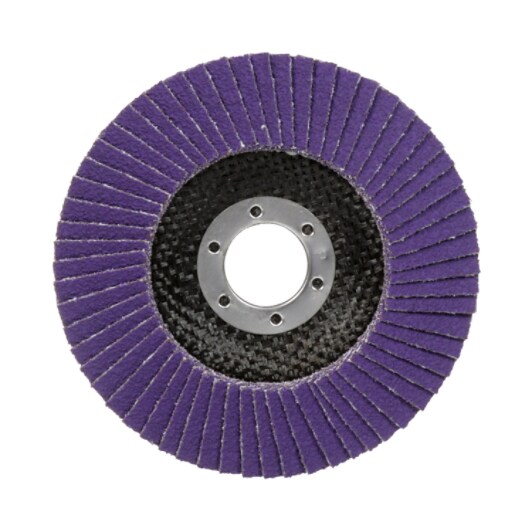 Featuring triangular shaped ceramic mineral that cuts 30% faster than premium abrasives

About 3M™ Cubitron™ II and Precision-Shaped Grain
3M™ Cubitron™ II abrasive discs, cutoff wheels and file belts (PDF, 32.61 Mb) have raised the bar for high-performing abrasives. 3M Cubitron II abrasives feature our Precision-Shaped Grain (PSG) technology, which allows our engineers to control the geometry of the abrasive grain for a truly fast, efficient cut. It also allows the disc to run cooler and require less pressure than other conventional ceramic abrasives, excellent for lighter weight materials. Instead of simply crushing the abrasive into particles, 3M uses microreplication to uniformly size ceramic grains and precisely shape them into triangular structures — essentially, sharp peaks that slice, not plow, through paint and metal. These grains are electrostatically oriented on the abrasive surface for the most efficient cut and even wear. What's more, PSG fractures during use to maintain sharp abrasive edges. The result: 3M Cubitron II cuts 30% faster and lasts 2x longer than conventional ceramic abrasives.
3M Precision Shaped Grain in Cubitron™ II abrasive wheels, discs and belts continuously fractures to form sharp points and edges
Tough Grinding and Finer Finish Combined
Durable Y-weight polyester backing on the 3M Cubitron II Flap Discs delivers controlled, even wear for low to medium-high pressure applications. Fibre-reinforced flaps radiate from a central hub and allow for maximum material loading onto the cutting surface. As the overlapping layers of the flaps wear away, they continuously expose fresh ceramic abrasive for a fast, consistent cut. The cushioning of the flaps combined with our super-sharp PSG abrasive grinds effectively yet creates a smooth finish. Under normal conditions, our flap discs grind and blend in one step to provide a finish that's one grade finer than the finish of a conventional fibre disc of the same grade.

Recommended Applications
Grinding to bare metal
Deburring
Weld grinding and seam blending
Edge grinding
Rust removal
Paint removal
Paint stripping

Better Science for Better Sanding from 3M
Our 3M™ Cubitron™ II Flap Discs features our highest abrasive technology for a range of grinding, blending and finishing jobs in collision repair. Featuring PSG and a flexible flap design, it is an excellent example of how 3M applies science to life — and makes your collision repair operations run smoother, faster and more efficiently.