Premium aluminum oxide abrasive offers a fast cut and long life on many surfaces
3M™ Hookit™ disc is easy to change and reuse, maximizing utility for the life of the disc
Durable film backing is tear-resistant and provides a uniform, consistent finish
Closed coat provides greater grain density and finer finish on hard surfaces
Manufactured without an anti-loading coating for substrates that are sensitive to contamination
3M™ Hookit™ Film Disc 371L delivers outstanding tear resistance, flexibility and a consistent, uniform finish on a variety of substrates. Premium aluminum oxide abrasive grain offers a fast cut-rate and extended product life for greater productivity.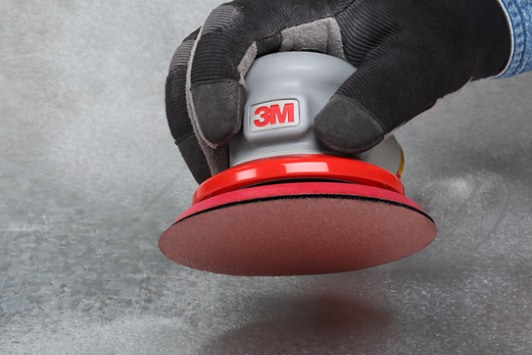 Flexible, smooth film backing conforms to contours and rounded edges
The Hookit™ Advantage
Hook-and-loop style 3M™ Hookit™ discs are ideal for work spaces where adhesive backed discs may become contaminated by dust, dirt or flying debris. They are often used in applications where a 3M™ Stikit™ disc may be too aggressive, as Hookit discs tend to leave finer finishes than adhesive backed discs. Hookit sanding discs conveniently and firmly attach to a hook-and-loop backup disc pad (sold separately) on a random orbital sander, can be removed cleanly and easily, and can be re-used again and again for the extent of the abrasive life. Hookit discs provide optimal performance when paired with a 3M™ Hookit™ disc pad.
Film-backed discs have excellent tear-resistant properties and provide a very uniform finish and consistent results with each use. This makes them an excellent option when working on e-coats, primers, gel coats, acrylics and solid surface material, and anywhere else a perfect finish is needed.
Aluminum Oxide Abrasive
Aluminum oxide is a popular choice among industrial professionals because of its fast cut-rate and long life. This mineral makes a tough, durable abrasive that self-fractures to expose fresh cutting edges, whereas traditional natural abrasives dull more quickly. Due to its fast cut-rate, hardness and strength, it is widely used in grinding applications in addition to sanding and finishing applications. Aluminum oxide is suitable for a wide variety of materials in both woodworking and metalworking, including ferrous alloys.