2-IN-1 TIMESAVER: Built to grind and blend small welds in a single step, as well as blend, deburr, finish and refine workpieces
AGGRESSIVE CUTTING ACTION: Tough enough for the heaviest surface conditioning jobs, including blending coarse grind lines
WORKS ON A RANGE OF METALS: Great for use on aluminum, mild steel, nickel alloy, stainless steel and titanium
QUICK AND EASY ATTACHMENT: Convenient 3M™ Roloc™ attachment system allows for fast disc changes
LONG-LASTING DURABILITY: Engineered to resist edge wear for longer disc life
FAST, CONSISTENT CUT: Ceramic aluminum oxide blends grind lines fast and stays sharp over the life of the disc
CHOOSE YOUR GRADE: Available in Heavy Duty (HD-CRS) and Super Duty (SD-CRS) to match your application needs
We constructed our Scotch-Brite™ Roloc™ Light Grinding and Blending Discs with a ceramic abrasive grain blend to achieve a high cut-rate for optimal weld grinding and blending in mild-steel applications. In these instances, Light Grinding and Blending discs are designed to effectively blend and refine a grade 36 scratch or finer.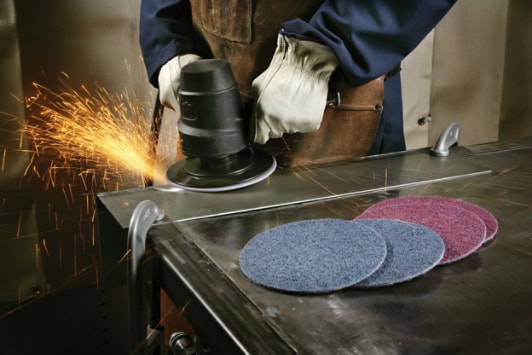 Tough and Sharp
3M™ ceramic aluminum oxide abrasive is a ceramic mineral designed using our proprietary process to enhance toughness and hardness of the grain for a higher level performance. Ceramic aluminum oxide blend is engineered to fracture frequently and surpasses aluminum oxide abrasives in both cut-rate and durability. Perfect for moderate to heavy stock removal as well as finishing, ceramic abrasives are built to cut fast and handle intense heat and stress applications.
The Roloc™ Advantage
Our 3M™ Roloc™ quick change discs are smaller discs that easily and quickly attach onto a
3M™ Roloc™ Disc Pad
(sold separately) so that you can conveniently change discs fast and easily to accommodate different tasks or multi-step finishing processes. The Roloc™ system provides a secure attachment even for heavy-duty applications, and the variety of available 3M™ Roloc™ discs allows swapping from one application to the next in seconds. Each disc is also color-coded to identify its grade, making it easy to grab the grade required for different applications.