3M™ Precision Shaped Grain continuously fractures into sharp points for fast-cutting performance
YF-weight backing is durable and excels in medium-to-high pressure applications
Designed to run cool to reduce metal discoloration, oxidation and risk of stress cracks
Ceramic grain requires less pressure for efficient application
Heat-resistant, resin-bonded ceramic grain provides durability
3M™ Cubitron™ II Cloth Disc 984F is an abrasive cloth disc built with 3M™ Precision Shaped Grain (PSG) on a durable, YF-weight, polyester backing. This ceramic grain continuously fractures into sharp points that are capable of cutting exceptionally fast. The YF-weight backing is tough and ideal for medium-to-high pressure applications.
A revolutionary precision shaped ceramic grain was created that continually fractures into super-sharp points and edges that slice cleanly through metal, rather than gouging or plowing as traditional abrasives do. This creates a super-fast cut and lessens heat build-up in the workpiece, reducing heat-related stress cracks and discoloration. Moreover, because the abrasive itself stays cooler and sharper, it lasts significantly longer than conventional ceramic grain belts, decreasing costs and reducing belt changeovers.
The exceptionally fast cut and long life of ceramic grain make this belt ideal for industrial environments. It is also heat resistant, produces a uniform finish over the life of the product, and helps eliminate burning during end-grain sanding applications. The YF-weight cloth backing on the 984F belt provides durability and the mineral is resin bonded to the backing for reliable performance, even under high heat and pressure.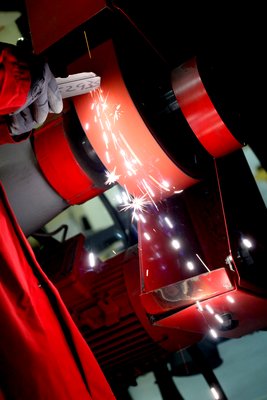 Our proprietary 3M™ Cubitron™ II products have raised the bar for high-performing abrasives. Our engineers started with 3M™ Ceramic Abrasive Grain and used technology to electrostatically orient each triangular structure on the backing to form sharp peaks and maximize cutting potential. These peaks act like individual cutting tools that slice through metal, and continuously shelf-sharpen as the points break off, ensuring extended high performance in heavy-duty production applications. The grains wear evenly and provide extra-long life and consistency with less grinding pressure. The result is that Cubitron™ II products outcut and outlast every conventional ceramic industrial abrasive product on the market, maximizing productivity and minimizing belt stress and operator fatigue.
Abrasive belts come in many different widths and lengths and are used on a variety of different belt sanding tools for many different applications on metal substrates. 3M offers a broad selection of belts to fit most any industrial belt sander. Wider belts are used with wide belt sanders to dimension metal sheets, coils or add a grain pattern to stainless steel. Medium-width belts are used on backstands to remove welds, material removal and to set the grain in stainless steel. Narrow belts are used with portable belt sanders for grinding or blending right angle fillet welds.
Belts come with various splices that join the belt ends. 3M™ Cubitron™ II Cloth Belt 984F has a fabric splice for added strength when grinding in medium to high pressure applications.