Non-woven, dense convolute wheel provides added stability for automation
Suitable for light to medium-pressure deburring, edge radiusing and cleaning/finishing of all metals
Fast cut rate contributes to speedy removal of micro burrs and light defects, helping to increase productivity
Fine grade silicon carbide mineral leaves a fine finish
Extra hard density wheel stands up to edges and extrusions
Open web is load resistant, prolonging abrasive service life
A versatile product suitable for many different tasks, the Standard Abrasives™ General Purpose Convolute Wheel is a good starting point for maintenance tasks when a specialty product is not required. Use it on any metal for a range of shop jobs such as light to medium deburring, cleaning and finishing, light defect removal and edge radiusing.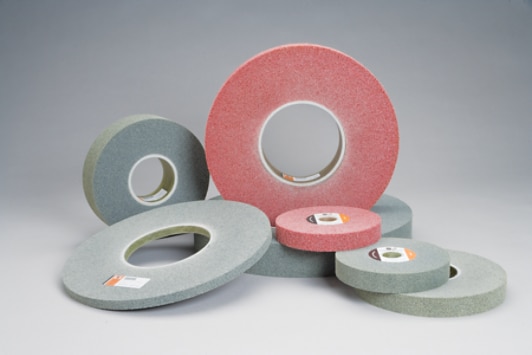 Extra hard density wheel stands up to edges and extrusions
Hard Density and Convoluted Design Aids Automation
We constructed our Standard Abrasives™ General Purpose Convolute Wheel with extra hard density and sharp-cutting silicon carbide. It is a convolute wheel made from a non-woven sheet of nylon fibers, abrasive grain and resin densely wound around a wheel core and then cut to the desired width. Its convolute construction adds stability to larger wheels used in automated or semi-automated production. The wheel maintains its shape and stands up to edges and extrusions.

Dense construction together with extra sharp silicon carbide grains add up to a smooth running wheel that helps minimize operator fatigue. Nylon fibers in the open web break down while abrading the surface, exposing fresh, sharp mineral. The ongoing sharpness contributes to consistent cutting action. Gaps between the nylon fibers allow swarf and debris to escape, keeping the mineral sharp and preventing blunt or dull edges that might gouge or blemish the surface of the workpiece. Subsequently, the wheel is smear-resistant for a more reliable finish.

Tips for Optimal Use
As a convolute product, this wheel should run at recommended operating speeds, using low to medium pressure, and in the direction of the arrow imprinted on the wheel. Following these recommended measures will help to ensure operator safety and optimal performance of the wheel. Using lubricants may also help wash away unwanted swarf and debris and keep the abrasive running cool. The wheel may be used on straight shaft stationary and portable tools, feed-through machines and automated equipment. The versatile range of compatible tools gives operators an added level of flexibility and convenience for addressing unique project needs.

The Many Benefits of Open Web Abrasives
The open web on Standard Abrasives™ General Purpose Convolute Wheel combines nonwoven fibers and abrasive mineral with resin to form an open web construction. As the wheel abrades the surface, the fibers break down to expose fresh, sharp mineral for a consistent cut. Moreover, gaps between the fibers allow swarf to escape, so the web does not get clogged with debris, prolonging abrasive service life. The web is spongy, resilient and responsive, so as not to gouge or mar the substrate. The Standard Abrasives™ General Purpose Wheel delivers a sharp cut and consistent finish — part after part.