3M™ Polyurethane Protective Tape 8663 is an erosion protection tape and primarily used on aircraft leading edges such as vertical stabilizers. It is constructed of a polyurethane backing coated with a long-aging, solvent-resistant, pressure sensitive adhesive that is protected with a transparent easy-release liner.
Erosion Protection
3M™ Polyurethane Protective Tape 8663 is a transparent 18 mil, polyurethane elastomer tape designed to protect leading edges such as vertical stabilizers against rain and sand. Our tough polyurethane backing is scratch, tear, erosion, puncture and impact resistant. The transparent tape can be painted or applied over painted surfaces. This tape has excellent environmental resistance properties and has been used to isolate and protect substrates from environmental damage and erosive elements. A polyethylene liner helps protect the adhesive from contamination prior to bonding. 3M™ Polyurethane Protective Tape 8663 is qualified to leading aircraft manufacturer specifications for protection from sand and rain erosion.
3M™ Polyurethane Protective Tape 8663DL provides a moisture barrier specifically designed for 'wet areas', such as galleys, lavatories and doorways. They are uniquely engineered for ease of application and outstanding puncture resistance, separating them from other fluid barrier solutions on the market. Many airlines use 3M™ Polyurethane Protective Tapes to:
Reduce maintenance costs
Extend service life
Prevent beam corrosion

Adhere with Acrylic
This tape features a pressure sensitive acrylic adhesive that adheres effectively to a variety of substrates. Once bonded this adhesive will provide high, secure adhesion for extended periods. This acrylic adhesive maintains its bond strength through a range of climate and temperature changes. When needed, this tape removes easily.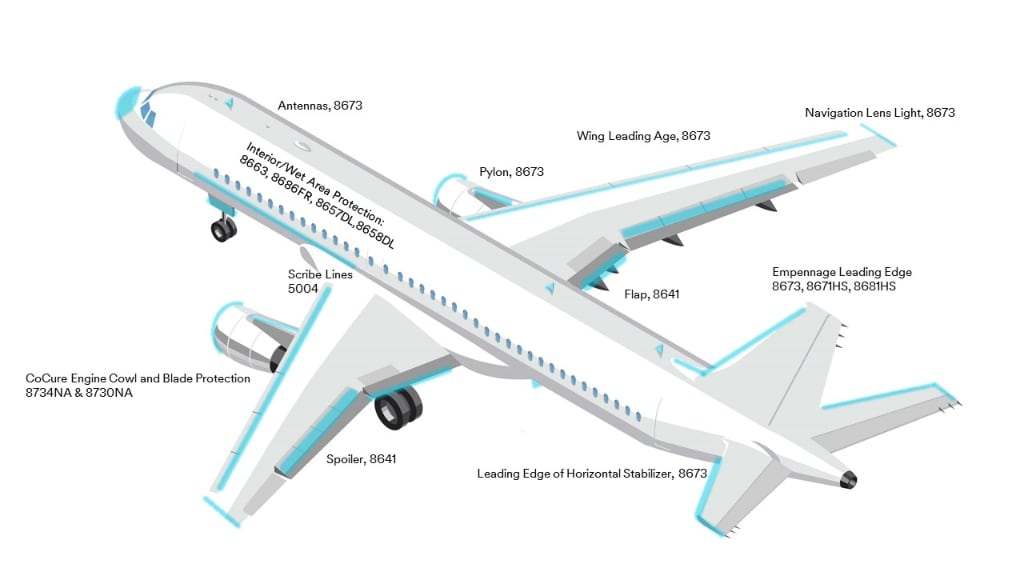 Our Best for Your Best
3M is proud to partner with organizations across the spectrum of aerospace and related industries. Enabling efficiencies, reducing process times and lowering aircraft weight is how we execute our never-ending mission to offer best-in-class adhesives, sealants, surface protection products and composite resins that effectively reduce costs on multiple fronts. Professionals across the industry know the numerous advantages of 3M Aerospace. Our brand is widely recognized for the highest standards of quality and performance, adding value to the final results. By engineering reliability, longevity and value into all of our products, we have a history of saving money by reducing waste, rework and time.