Macroreplicated abrasive "bricks" contain multiple layers of abrasive mineral, "channels" keep remove swarf and keep work surfaces cleaner
Controlled mineral breakdown delivers more consistent, predictable finishes over the life of the belt
Durable cloth belt is frequently able to grind and finish in one operation
Grinding aid reduces friction and keeps workpiece cool for dry grinding applications
Extra-long belt life reduces abrasive cost and inventory
Our 3M™ Trizact™ Cloth Belt 337DC delivers consistently in intermediate to final finish, medium pressure applications. Designed with aluminum oxide and a grinding aid on a durable X- weight cloth backing, this belt is available in widths from 1/2 to 24 inches and grades from A300 to A30.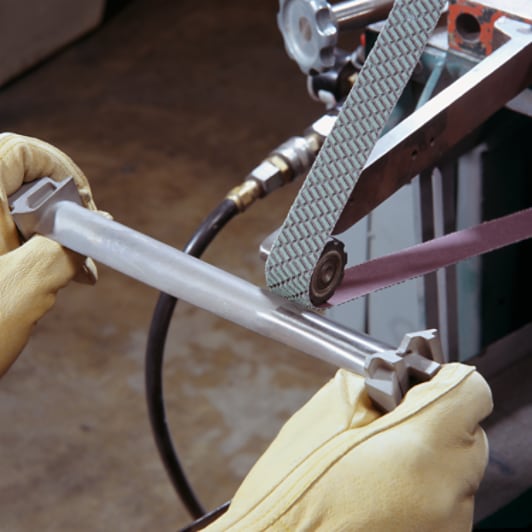 Delivers consistently in intermediate to final finish, medium pressure applications
The "bricks" consist of layers of mineral and grinding aid, up to 4 times as much as conventional aluminum oxide belts of the same grade. These dense layers of abrasive mineral lead to extra-long life and extremely consistent performance. The grinding aid protects heat-sensitive alloys from damage and reducing rework. Trizact belts start sharp and stay sharp. The consistent cut
Trizact belts
(PDF, 13 Mb) deliver can often consolidate or eliminate process steps. In many cases, Trizact™ 337DC has the capacity to grind and finish in one step.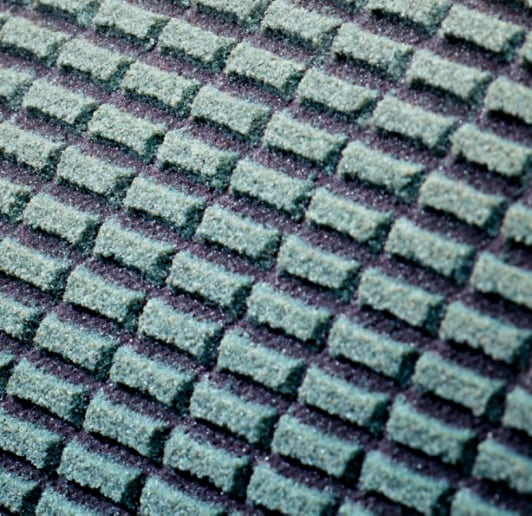 Microreplication abrasives have varying shapes and formulations, to control the level of breakdown, cut, finish and life
Microreplication: Engineering Surface Geometry
Building upon the principles of microreplication, 3M scientists developed larger, more diverse abrasive structures — cubes, spheres, ridges — identical in shape and optimized for a variety of applications. Microreplication allows 3M to design abrasives with varying shapes and formulations, to control the level of breakdown, cut, finish and life
These abrasive structures are arrayed precisely and uniformly across a film or cloth backing in a pattern calculated to deliver sustained cut rate and eliminate belt-to-belt variation
Made to Tackle Difficult Metals
Trizact was developed especially for finishing more difficult processing materials like titanium, cobalt, stainless steel, as well as all exotic alloys in the aerospace, aviation and medical industries. Also effective for finishing applications on carbon steel, copper, bronze, aluminum, composite materials and synthetics.
Recommended Applications
Use for dry intermediate finishing, blending, scratch refinement or final dimensioning on robotic, semi-automated, automated, off-hand equipment and portable file belt tools. Use Trizact™ Cloth 337DC belts with:
Medium hardness contact wheels (50-70 Shore A)
Rubber contact wheels
Smooth face to gentle serrated contact wheel
To prepare drawn carbon steel truck exhausts from rough to pre-plate finishes in as few steps as possible, we used a grade sequence of A100, A65, A30. Trizact™ 337DC outlasted a competitor by 2:1. For blending, final dimensioning and finishing of turbine engine components, our grade A45 Trizact 337DC belt outlasted a competitor's belt by 4:1 times and produced a finer finish.
Creating More Perfect Surfaces
Microreplication is only one of 3M's platform of core technologies. Its perfectly calibrated arrays are designed to give materials new physical, chemical, or optical properties. The science that makes 3M's structured abrasives wear more evenly, last longer and provide more pristine finishes on delicate components like medical implants is also the science that makes traffic signs brighter, and exterior building illumination capture and reflect light more brilliantly.