Whole house water filter systems are great solutions to help protect your pipes and appliances as well as offer you great tasting drinking water from anywhere in the home.
3M's latest innovation in whole house water filtration systems, the AP900 series, offers you three levels of filtration for great tasting water throughout the house with easy change out replacement cartridges from our proprietary sanitary quick change (SQC) style heads.
Three levels of filtration available for different water quality issues.
Stainless steel head with limited 25 year warranty.
Easy SQC replacement change-out style.
Housings do not come with water filter cartridge. Drop-in cartridges sold separately. Flow rate and reduction claims vary with drop-in water filter cartridge used.
1" NPT Stainless Steel Inlet and outlet plumbing connections
Peak flow rate is up to 20 gpm/75.7 lpm
System maximum operating pressure of 125 psi (862 kPa) and operating temperature of 100°F/37.8°C
The AP902 system incorporates a non-woven pleat media that reduces sediment down to 5 micon nominal
The AP903 incorporates carbon block filtration with a non-woven pleat media to reduce sediment down
The AP904 system incorporates scale inhibition media, carbon block filtration and a non-woven pleat media to reduce sediment down to 5 micons nominal, chlorine taste and odor, as well as scale build-up
System materials are FDA CFR-21 compliant and are food and drinking water safe
Cartridges are sanitary in design, requiring no contact with the filter media during cartridge change-out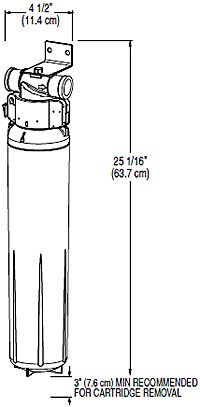 The scale inhibition feature uses polyphosphates in minute quantities to bind calcium and magnesium hardness minerals, preventing them from precipitating out and building up on metallic surfaces which can reduce flow rates throughout the homes plumbing system. 1" stainless steel inlet and outlet connections provide easy installation and high flow rates up to 20 gallons per minute (GPM) / 75.7 liters per minute (LPM) to meet the needs of residential and light commercial applications. The innovative Sanitary Quick Change (SQC) design, an industry first for this application, allows for fast and easy cartridge change-outs without having to contact the filter media or the need for a filter wrench.
The AP900 Series is manufactured with a head assembly that includes an integral mounting bracket. The 304 stainless steel head allows for "sweat in place" installation and is a corrosion resistant material that provides long service life and won't affect the taste of drinking water. The stainless steel head comes with a 25 year warranty for worry-free ownership. The AP900 Series line also includes an electronic countdown timer refrigerator magnet to remind the owner when to change the cartridge.
The AP900 Series of whole-house water filtration systems reduce sediment, chlorine taste and odor and scale (system dependent), and improves water quality and taste while supplying cleaner, clearer water to every water source point in the house. These systems are referred to as point-of-entry (POE) systems and are installed downstream from the water meter or well pump. These systems help protect plumbing and fixtures while reducing unpleasant taste, color and odor. Maintenance of a whole-house water filter system is as simple as replacing a light bulb with a simple quarter turn of the cartridge or placing a service call with your local plumbing professional.
Learn more about all of our 3M™ Aqua-Pure™ Products