M14-2 interior threaded metal insert fits grinders with M14-2 threaded spindle, typically sold in Europe and Latin America
63.5 mm hub (2-1/2") supports fiber disc face plates with diameters of 101mm (4"), 115mm (4-1/2"), 127mm (5"), 178mm (7"), and 229mm (9")
Metal retainer nut securely fastens a fiber disc with a 22mm (7/8") center hole to a grinder/sander spindle
Retainer nut is compatible with 32mm (1-1/4") spanner wrench with 6.5mm (1/4" pins)
Face plates are sold separately
3M™ Disc Pad Hub and Retainer Nut attach fiber discs to tools with M14-2 threaded spindles found on sanders and grinders typically sold in Europe. The disc pad hub has an M14-2 internal threaded metal insert that fits an M14-2 threaded spindle (where the spindle is 14 millimeters in diameter with 2 millimeter pitch).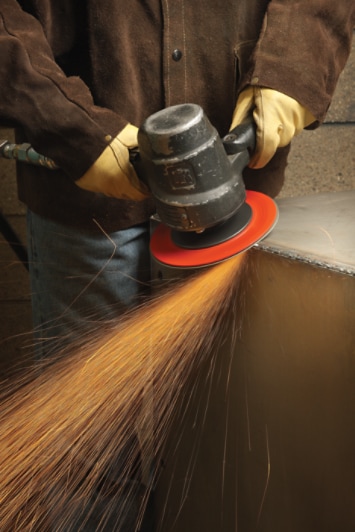 3M™ Disc Pad Hub And Retainer Nut used for grinders
The Flexibility to Choose: Face Plate Attachments
Our 3M™ Disc Pad Hub enables operators to select face plates with four different levels of flexibility (soft, medium, hard and extra-hard). The disc pad hub holds a face plate firmly in position, and a center hole fiber disc is secured to the tool spindle with the retainer nut.
Disc pad hub and retainer nut has a M14-2 INT thread for use on grinders with M14-2 threaded spindle and can be used on all 3M Fiber Disc face plates. Use with 4-1/2 inch through 9 inch Fiber Discs with 7/8"/22mm center hole.