3M Precision-Shaped Grain maintains super-sharp points that cut exceptionally fast with less pressure
Disc life is significantly longer, completing more parts per disc and requiring fewer disc changes
Reduces changeouts and downtime in manual, robotic and pressure-assisted applications
Triangular shaped ceramic grain lasts up to two times longer than other ceramic abrasives—it wears evenly, runs cool, and optimizes mineral breakdown
Stiff fiber backing and a strong resin bond provide durability and tear-resistance for heavyweight applications such as high-pressure weld grinding and beveling
3M™ Cubitron™ II Fibre Disc 982C uses 3M Precision-Shaped Grain to generate up to twice the cut-rate, durability, and life of other fiber discs when grinding carbon steel — all with less grinding pressure required by the operator. That means less operator fatigue, faster throughput, and more parts per disc when tackling medium and high-pressure grinding applications.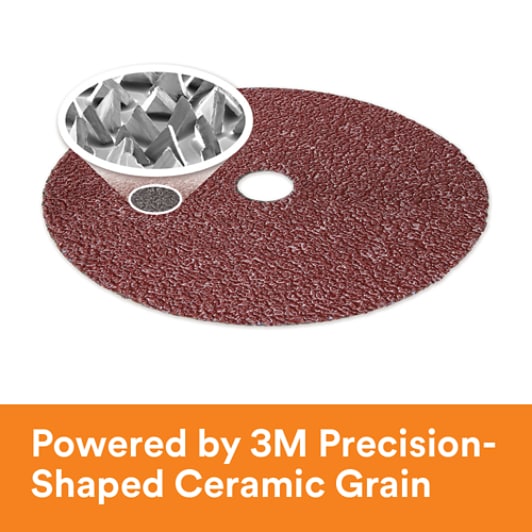 3M™ Cubitron™ II Fibre Discs are powered by 3M Precision-Shaped Grain.
Long-lasting fibre discs maximize efficiency in robotic grinding applications.
Choose Your Grit
3M™ Cubitron™ II Fibre Disc 982C comes in a range of grits to suit your application needs — from coarse grinding large welds to blending and deburring.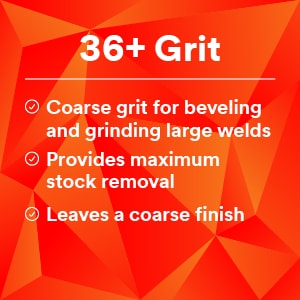 36+ grit fibre discs are ideal for beveling and grinding large welds, providing maximum stock removal and a coarse finish.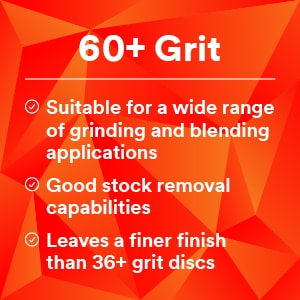 60+ grit fibre discs cover a wide range of grinding and blending applications, providing good stock removal and a finer finish than 36+ grit discs.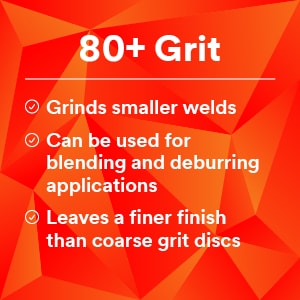 80+ grit fibre discs are best suited for grinding smaller welds, blending and deburring. They leave behind a finer finish than coarse grit discs.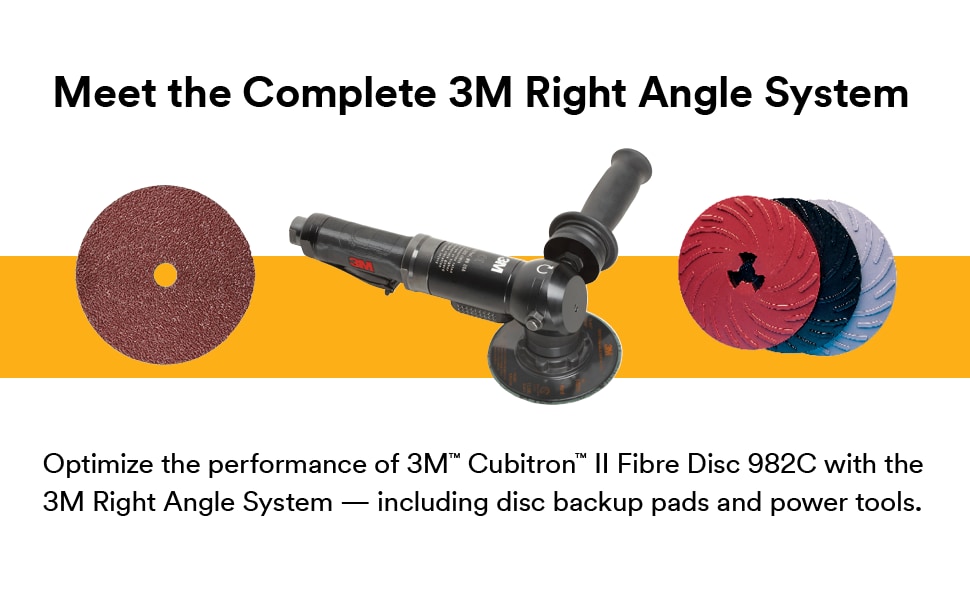 3M offers a complete right angle system: fibre discs, backup pads and power tools. These components work together to optimize the performance of 3M abrasives.
Your Total Solution Supplier
Combined with 3M power tools and application engineering expertise, 3M™ Cubitron™ II Fibre Disc 982C is part of a complete abrasive solution. With the 3M abrasive solution, you'll have the right abrasives, the right tools and industry-leading application engineers to help you take your shop to the next level.

Learn more about 3M Angle Grinder Systems here.