A good starting point for many different light-duty applications, the Standard Abrasives™ Quick Change Buff and Blend GP Disc is a versatile non-woven abrasive disc designed to lightly blend, clean, deburr and finish smaller areas on a variety of metals. The quick change system offers both convenience and a secure attachment to the tool, enhancing operator efficiency and productivity.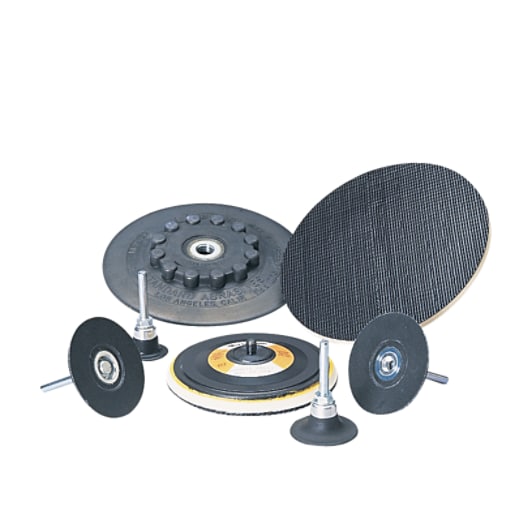 Holder pads have built-in mandrel for ease of use or can attach to mandrels of varying lengths to help users access different areas of the workpiece
Moderately Aggressive for Lighter-Weight Applications
Equal parts fast cut and fine finish, the Standard Abrasives™ Quick Change Buff and Blend GP Disc is a great multi-purpose product for general-duty industrial applications. One of five Buff and Blend materials, the maroon GP material is moderately aggressive. Use it to remove light oxidation, blend minor surface imperfections, clean surfaces prior to coatings, remove small burrs, and perform basic equipment cleanup. A flexible open web conforms to workpiece contours, radii and internal diameters. Its non-woven construction makes the disc spongy and responsive, so you no longer have to worry about gouging or marring the substrate while achieving an aggressive cut.
Options to Suit Many Different Surfaces
Versatile and multi-purpose, our Quick Change Buff and Blend GP Disc suits many different applications with a range of grades from Coarse (CRS) to Very Fine (VFN) and disc diameters up to 5 inches. It works well on a variety of substrates, including ferrous and non-ferrous metals, aluminum, high nickel/chrome alloys and stainless steel.
Quick Change Systems Improve Productivity
Quick change discs allow tool-free swap outs, maintain secure attachment at high speeds, and save operators time when switching discs between grades or applications. Easy fastening and swapping of discs enhances tool efficiency and worker productivity. Choose the disc compatible with your TP, TR, or TS holder pad. The TP system features a snap-on/snap-off nylon fastening hub. TR discs have a nylon threaded male hub that easily mounts to TR or 3M™ Roloc™ type
holder pads
with a turn of the wrist, and the TS system has a metal hub that fastens to its holder pad with a simple twist.
The Many Benefits of Standard Abrasives™ Non-Woven Products
Standard Abrasives
™ (PDF, 3 Mb) Buff and Blend non-woven products offer many benefits. Varying Buff and Blend materials help distinguish Buff and Blend products from each other, but all Buff and Blend products have an open web. The open web combines abrasive mineral and non-woven nylon fibers with a resin-reinforced bond. The resin bond securely anchors mineral to the fibers, making for a strong, durable abrasive.
Gaps between fibers allow swarf to escape, so the abrasive does not get clogged with debris. Minimizing swarf and debris prolongs abrasive service life and keeps minerals cutting sharper for longer. Nylon fibers won't splinter during grinding, offering a good alternative to steel wool. Moreover, as the fibers break down and fresh mineral is exposed, it reduces the likelihood of dull or blunt mineral smearing the surface. Standard Abrasives™ Buff and Blend products deliver a consistent cut and finish - part after part.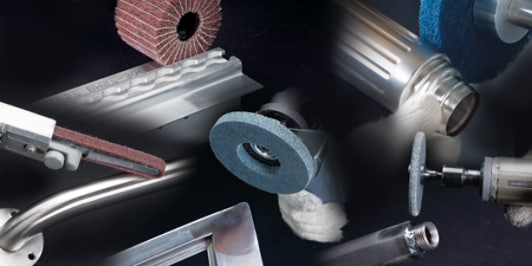 Standard Abrasives also offers a full line of abrasives including quick change discs, flap wheels, cartridge rolls, fiber discs and non-woven wheels, brushes, flap discs, hand pads, belts and more