High strength, fast curing adhesive that provides a lasting bond without long curing times
One component moisture curing eliminates mixing and simplifies production processes
Unique polyurethane formulation doesn't foam or create bond line expansion
3-5 minute open time; 30 minute clamp time; fully cures in 24 hours
Paintable
3M™ Polyurethane Multi-Purpose Adhesive 5010 is a one component, fast curing adhesive which forms a rigid permanent bond. It is designed to bond wood to a wide variety of materials including wood, foam panels, metal and steel, some plastics, glass and fiberglass.
Create strong bonds with little or no foaming
Work quickly and precisely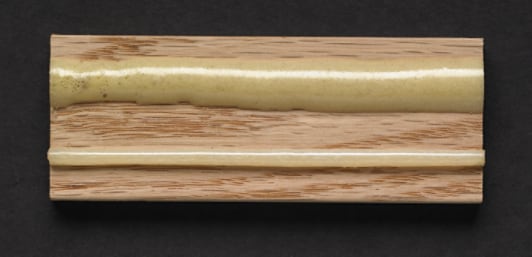 Unlike alternative adhesives (top), 3M adhesive (bottom) exhibits almost no foaming or line expansion
Fully Cures in 24 Hours to Provide a Long Lasting Bond
3M™ Polyurethane Multi-Purpose Adhesive 5010
(PDF, 33.94 Kb) is a fast grabbing, 100% solids, one-part polyurethane based moisture curing adhesive for wood bonding. It features a fast, high-strength formulation that requires no heating or long set-up times to cure. With a 3-5 minute open time, and 30 minute clamp time, this adhesive fully cures in 24 hours to provide a long lasting bond. Once cured this adhesive is water resistant, making it ideal for both indoor and outdoor applications. This adhesive is low VOC, meets SCAQMD Rule 1168 and helps contribute to LEED® credits.
Recommended Applications
Interior and exterior wood doors
Wood or plastic decorative trim and moldings for furniture and cabinets
Wood furniture component assemblies
Anywhere a strong-bonding, low foaming adhesive is needed
Unique Formulation Doesn't Foam or Create Bond Line Expansion
3M™ Polyurethane Multi-Purpose Adhesive 5010
(PDF, 599.5 Kb) resists foaming and line expansion to produce a thin bond line that won't cavitate, though it is both paintable and sandable after curing. This unique, high-strength formulation will bond even dissimilar materials with little foaming to produce superior results. All you need is a standard caulking gun for precise, completely controlled application.
Bringing Better Ideas to the Surface through Science and Innovation
In our 3M Industrial Adhesives and Tapes Division, we apply the science of adhesion to deliver innovative solutions that improve the design and manufacturing processes of companies around the world. In the end, our technologies help customers like you deliver competitive products to the market faster and more efficiently.