Rigid structure provides consistent and reproducible contaminant reduction
Excellent reduction of deformable contaminants for consistent effluent quality
Gasket design reduces by-pass from poor to damaged seals
Rigid structure reduces cartridge by-pass and unloading for consistent filtration throughout product lifecycle
Low pressure drop provides long service life while using smaller filter housings
We offer the Betapure™ AU Series Filter Cartridge in various grades for absolute reduction ratings. The controlled pore size of the filter matrix provides absolute distinction between cartridge grades for accurate and consistent filtration. Our filter design provides precise contaminant reduction, consistent effluent quality and superior on-stream service life for a wide-range of applications.
High Quality Paint, Film Coatings, Resins, and Ink
Food & Beverage
Bottled Water, Pre-Ro, Blend Water, Wash Water
General Industrial
Desalination, Plating, Machine Tool Coolant, Process Water
Electronics
Pre-Ro, Wafer Slurries, Ceramic Slurries, Chemical Mechanical Polishing, Cathode Ray Tube Production, Disc Cleaning
Chemical/Petro-Chemical
Process Water, Pre-Ro, Amine, Fine Chemicals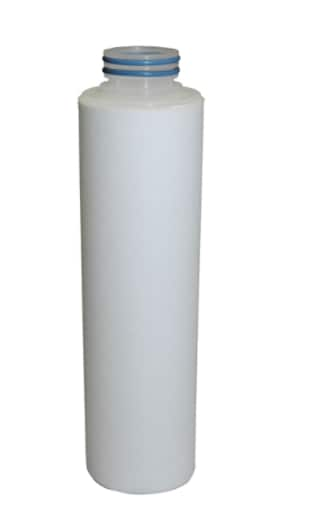 Rigid structure provides consistent and reproducible contaminant reduction
The Rigid Construction Advantage
To meet demanding filtration quality standards in today's market, absolute ratings will provide you with product consistency, and improve yields.
Our rigid filter structure retains consistent pore size even under severe process conditions. Changes caused by pump fluctuations, stopping and restarting the system, or high differential pressure will have minimal, if any effect on product consistency. Depth filtration reduces deformable contaminants to help eliminate rework or product quality rejection.
Critical to any filtration process is the reduction of filter by-pass. We effectively address this issue by design with our closed-cell polyethylene foam gasket to properly seal the cartridge for applications using knife-edge housing systems.
Minimizing flow restriction can dramatically reduce filtration cost. Lower pressure drops mean increased filter life, product throughput, and permit the use of fewer filters to achieve a given flow vs. differential pressure. When filters are appropriately sized for a specific application they reduce total filtration costs including purchase, installation, and disposal.