Electrically-heated pneumatic applicator at 250°F (121°C) with the squeeze of a trigger
Designed exclusively for 3M™ Scotch-Weld™ PUR Adhesives
Easy to use and maintain with unique disposable nozzle, no tip cap, no grease, and no system purging
Adhesive can stay in applicator at dispensing temperature for up to 16 hours
UL rated
Repair parts and accessories are available
3M™ Scotch-Weld™ PUR Easy 250 Applicator is a self-contained, hand held pneumatic applicator designed to dispense cartridges of 3M™ Scotch-Weld™ PUR Adhesives. These adhesives are applied warm and can bond a wide variety of substrates such as wood, fiber reinforced plastic (FRP) and many other plastics to themselves, to metal and to glass. The proprietary nozzle makes clean up a breeze.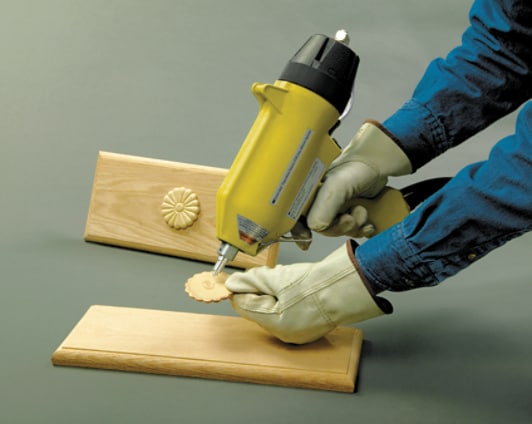 Ideal for use on decorative moldings and trim
Production Power of Dual Technologies in One Self-Contained System
With the hand-held 3M™ Scotch-Weld™ PUR Easy 250 Applicator (PDF, 552.67 Kb), you have the practical benefits of two technologies in your assembly operation. This single component system combines structural adhesive benefits and hot melt adhesive speed for wood, plastic and more. One-component and moisture curing eliminates metering, mixing and curing time and equipment, for efficient operation. The electrically-heated pneumatic applicator dispenses (PDF, 4.61 Mb) adhesive at 250°F (121°C) with the squeeze of a trigger. The adhesive can be kept at optimum temperature by using the 3M™ Scotch-Weld™ PUR Easy 250 Preheater for easy swap out or can stay in the applicator at dispensing temperature for up to 16 hours cumulatively. Repair parts and accessories are available for the 3M™ Scotch-Weld™ PUR Easy 250 Applicator. Please go to 3M.com/refurb to fill out a form to accompany any defective applicator to the 3M IATD Warranty Repair Center. Defective applicator must be returned to obtain refurbished one.

Recommended Applications
Plastics assembly
Window and glass applications
Difficult to bond to vinyl and plasticized materials, including fabrics, trims and foams
Wood or plastic decorative trim and moldings for furniture and cabinets

Understanding 3M™ Scotch-Weld™ Polyurethane Reactive (PUR) Adhesives
3M™ Scotch-Weld ™ PUR Adhesives are one-component, moisture-curing urethane adhesives that are applied warm to create dramatically strong bonds to a variety of substrates such as wood (PDF, 17.52 Kb), fiber reinforced plastic (FRP) (PDF, 22.78 Kb) and many other plastics to themselves, to metal and to glass. Fast-acting strength begins to build as the adhesives cool for rapid, convenient application with minimal downtime from clamping or fixturing. These adhesives can be extruded from hand held or bench mounted 3M™ Scotch-Weld™ PUR Adhesive Applicators.

PURs offer attractive options: from woodworkers searching for thin bond lines and replacing unsightly mechanical fasteners, to plastic, glass and metal materials assembly in automotive, electronics, general assembly and many other industries.

Bringing Better Ideas to the Surface through Science and Innovation
In our 3M Industrial Adhesives and Tapes Division, we apply the science of adhesion to deliver innovative solutions that improve the design and manufacturing processes of companies around the world. In the end, our technologies help customers like you deliver competitive products to the market faster and more efficiently.

Click here for more information on 3M Structural Adhesives. (PDF, 15.87 Mb)