Sanitary Quick Change (SQC) encapsulated media cartridges reduce contact with contaminants during change-outs
SQC allows for fast and easy cartridge change-out with no need for a filter wrench
Replacement filter cartridges must be used with potable water
The 3M™ Undersink Reverse Osmosis Replacement Filter Cartridges for use in reverse osmosis drinking water systems include activated carbon in the pre- and post-filters, as well as the reverse osmosis thin film composite (TFC) membrane to provide filtered water for drinking, cooking, coffee and ice machines. An automatic shutoff valve promotes peak efficiency and water conservation.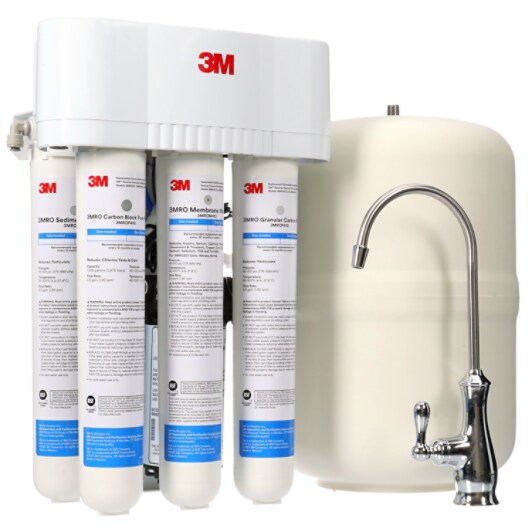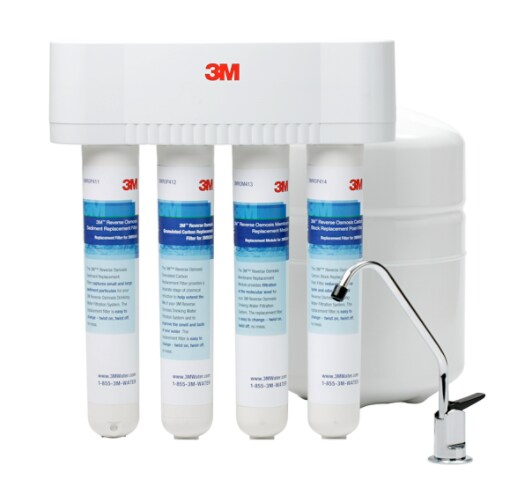 Three and four stage RO systems
We offer 3M RO replacement filter cartridges to be universal for use with municipal (chlorinated) or well (non-chlorinated) water supplies. In order to maintain peak water quality, we strongly recommend testing the water a minimum of every 6 months to ensure the RO system is performing satisfactorily. The RO process, in conjunction with activated charcoal pre- and post-filters, helps to reduce particulate, chlorine taste and odor, arsenic, TDS, parasitic protozoan cysts, radium, barium, cadmium, chromium, copper, fluoride, selenium, and other chemical and biological contaminants as noted on the Performance Data Sheet included with each system. The thin-film composite, reverse-osmosis membrane and activated carbon filter cartridges are easily replaced. These reverse osmosis replacement filter cartridges are designed for installation on a cold-water line at a maximum water pressure of 125 psi/862 kPa, system dependent.
Reverse osmosis water filtration systems help to reduce impurities by forcing water through a membrane and leaving contaminants behind. Reverse osmosis is typically used in connection with thin film composite (TFC) membranes and activated carbon pre-filters and post-filters. These units are primarily designed to be installed directly on the cold water line under the sink.
An innovative Sanitary Quick Change (SQC) design allows for fast and easy cartridge change-outs without having to contact the filter media or the need for a filter wrench.