Our 3M™ HAF High Air Flow Filter offers low initial airflow resistance while its 3M microstructure design and electrostatic charge provide effective particle capture. This may translate to fewer filter change-outs as compared to alternative dust filters, reduced coil cleaning and/or reduced maintenance cost.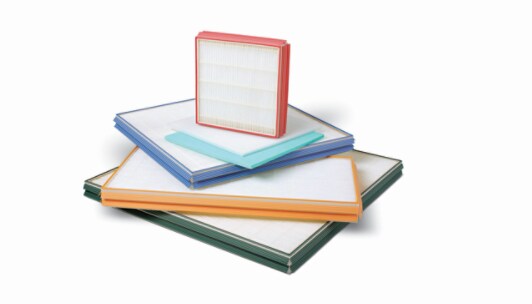 The frameless and self-supporting characteristics of these filters allow for easy installation and replacement.
Creative Filtration Technology
3M has invested research into perfecting the right balance between particle capture and low pressure drop. The result is a product with high in-use efficiency, small particle capture, and very good airflow across the entire media providing improved air quality and HVAC performance. 3M Commercial air filter use span many applications including: classroom buildings, laboratories, libraries, hotels, restaurants, entertainment complexes and office complexes.
A History of Innovation
For more than a century, 3M has applied innovation and technology to improve customers' lives and support their business goals. From its headquarters in St. Paul, Minnesota, 3M serves industrial and commercial customers and consumers in nearly 200 countries. Across thousands of products, the 3M brand represents consistency, superior quality and value. The 3M success begins with a culture of creative collaboration that inspires a never ending stream of powerful technologies and product solutions that make life better. 3M has an ability to apply technologies — often in combination — to an endless array of real-world customer needs. Of course, all of this is made possible by the people of 3M and a singular commitment to make life easier and better for people around the world. Toward that end, 3M is committed to providing innovative, cost-effective products that help protect people, equipment and the environment.