3M™ Double Coated Tape 9740 provides a combination of high initial adhesion and good shear holding power to a wide variety of materials, including many plastics and foams. This tape offers excellent continuous performance across a broad range of temperatures. The thin polyester carrier adds dimensional stability and improved handling during slitting and die-cutting operations.
Attachment to irregular surfaces
Bonding to plastics and metal extrusions
Applications where adhesion to low surface energy substrates is needed
Bonding of decorative trim
High speed flying splices where heat resistance is required
Find out more about 3M Masking and Specialty Products
(PDF, 4.65 Mb)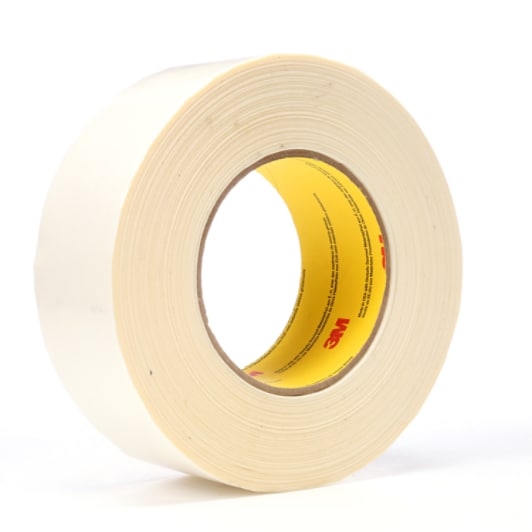 3M™ Double Coated Tape 9740 has high peel, tack and shear properties
Superior Bonding and Conformability on Irregular Surfaces
Acrylic adhesive offers high adhesion to a wide variety of substrates, including most low surface energy plastics. The adhesive allows for superior bonding and conformability to irregular and flat surfaces. A thin polyester carrier between the adhesive layers improves the handling and strength of 3M™ Double Coated Tape 9740.
Excellent Temperature Resistance
3M™ Double Coated Tape 9740 offers an excellent continuous temperature resistance range from 10°F to 425°F (-12°C to 219°C). The ideal tape application temperature range is 70°F to 100°F (21°C to 38°C). Initial tape application to surfaces at temperatures below 50°F (10°C) is not recommended because the adhesive becomes too firm to adhere readily. However, once properly applied, low temperature holding is generally satisfactory.
A Solution for Many Bonding Applications
In general, double coated tape is composed of a paper, film, or tissue carrier that is coated on both sides with pressure sensitive adhesive. The adhesive is protected by a peel-away liner that can be removed at the time of application or left in place until the joining surfaces are ready to be attached. These tapes can be applied by hand or with a dispenser. Double coated tape dispensers are available in a variety of configurations ranging from manual to fully automatic. Applications for double coated tape are found in splicing, construction, fabrication, arts and hobby.
Learn more about 3M™ Splicing Tapes
(PDF, 747.28 Kb)
Bringing Better Ideas to the Surface through Science and Innovation
In our 3M Industrial Adhesives and Tapes Division, we apply the science of adhesion to deliver innovative solutions that improve the design and manufacturing processes of companies around the world. In the end, our technologies help customers like you deliver competitive products to the market faster and more efficiently.
Learn more about 3M Industrial Adhesives and Tapes
(PDF, 45.87 Mb)