Cures in seconds to create a pressure sensitive adhesive
Provides high shear strength and final caliper nearly equivalent to printed wet thickness
Until exposed to UV, adhesive stays fluid to help reduce screen refills and cleaning
UV-curing uses less space and heat than traditional solvent and water-based drying systems
Solvent-free 100% solids for high coverage; no evaporation
Medium viscocity formulation ideal when printing directly onto part
Using standard flat bed screen printing equipment, 3M™ Screen Printable UV-Curing Adhesives apply like ink to a substrate or a liner and cures in UV light to a pressure sensitive adhesive coating that bonds on contact.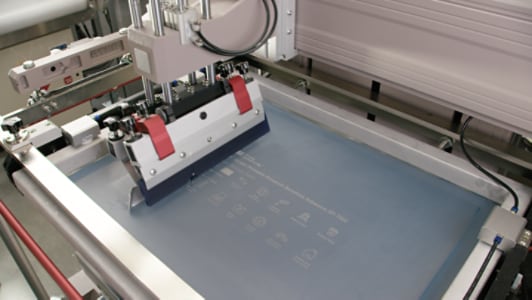 Adhesive can be applied precisely to design parts
Screen printable adhesive produces precise lines, helps reduce waste
3M™ Screen Printable UV-Curing Pressure Sensitive Adhesive SP7202 allows screen printing of fine lines and dots in an additive process that uses a 100% solids adhesive. When printed parts are placed under a UV light the liquid cures in 1-2 seconds to become a pressure sensitive adhesive (PSA), which can then be bonded or covered with a liner for shipment to a different location. The process works with small parts and complex shapes, printing fine lines larger than 0.2mm and holes as small as approximately 1mm with great precision and with less waste than subtractive processes such as die cutting. This material works with conventional screen printing and UV curing equipment. The requirement for UV light to cure the liquid provides long open times that help prevent screen clogging as well as a wide range of storage temperatures. The cured adhesive is water and chemical resistant and provides excellent adhesion to polycarbonate, polyester and higher surface energy materials; it demonstrates high static shear on par with traditional PSAs. This adhesive has been tested to ASTM F1596 for durability and can withstand up to 1 million actuations.
Applications
Membrane switches
Electronics
Graphic overlays
Flexible printed circuits
Bringing Better Ideas to the Surface Through Science and Innovation
In our 3M Industrial Adhesives and Tapes Division, we apply the science of adhesion to deliver innovative solutions that improve the design and manufacturing processes of companies around the world. In the end, our technologies help customers like you deliver competitive products to the market faster and more efficiently.