Satin matte finish matching most factory matte paints or transforming glossy vehicle paint to satin matte finish
Personalizes and protects vulnerable painted areas of the vehicle from scratches, chips and stains
Self-healing technology allows minor scratches to disappear
Backed by a 10 year warranty
Easy to install, flexible film allows more efficient application by 3M Certified Installers
Tough, durable and maintenance free
Scotchgard™ Paint Protection Film Pro Series Matte delivers superior personalization and protection to automotive surfaces. Pro Series Matte film features a self-healing formula that enables minor scratches to disappear by themselves. 3M film technology provides exceptional stain, weather and abrasion resistance, helping to preserve the car's showroom quality finish.
Accent stripes or highlight other aspects of the vehicle
Full hoods
Full vehicle wraps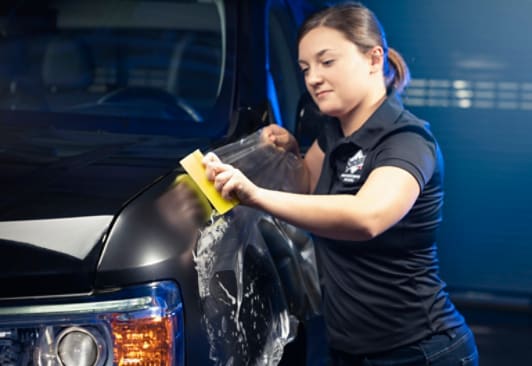 Transform your glossy vehicle paint to the satin matte finish
Out of Sight Defense
Paint protection film creates a protective barrier around vulnerable areas such as front bumpers, hoods and door edges. It helps keep vehicle finishes from being damaged by rock chips, scratches, bugs, road debris and punishing outdoor weathering. Scotchgard™ Paint Protection Film Pro Series Matte contains a high strength backing that features excellent abrasion, puncture, and tear resistance, along with high heat and moisture resistance.
The velvety smooth appearance of PPF Pro Series Matte is unique to the industry and allows customers to personalize any vehicle to their individual style. It can be applied as accents to highlight specific areas, or as a full vehicle wrap for a custom look. As a part of the
Scotchgard™ Pro Series PPF product line
, it is also maintenance free and does not require any special care, so owners may wash and wax as usual.
Ten Year Warranty
When installed by a 3M Certified Installer, Scotchgard™ Paint Protection Film Pro Series Matte is backed by a 10 year warranty, which covers defects including yellowing, bubbling and cracking. For further details,
contact a 3M Authorized Distributor
(PDF, 136.33 Kb), or call 1-800-328-1684 to speak with a 3M agent.
Leave it to the Professionals
3M Certified Installers leverage a portfolio of thousands of fit-tested, high quality paint protection film patterns. We offer hands-on installation training at a local 3M Authorized Distributor, as well as ongoing training videos and information.
Learn more about the benefits of being a 3M Certified Installer
3M Science Delivers Reliable Surface Protection
3M automotive engineers have invented cutting-edge technologies that enable automotive technicians to deliver the highest levels of customer satisfaction. We leveraged our technical capabilities and scientific knowledge to create Scotchgard™ Paint Protection Film Pro Series Matte — an auto paint protection film that offers world class protection for vehicle finishes. This film is an outstanding example of how 3M technologies help drive the automotive industry, providing both ease of use and exceptional results.