Bondo® Traffic, P-606 Flexible Loop Sealer is highly durable and remains permanently flexible. This loop sealant can withstand the corrosive effect of road salts, automotive fluids, jet fuel, gasoline and extreme weather conditions.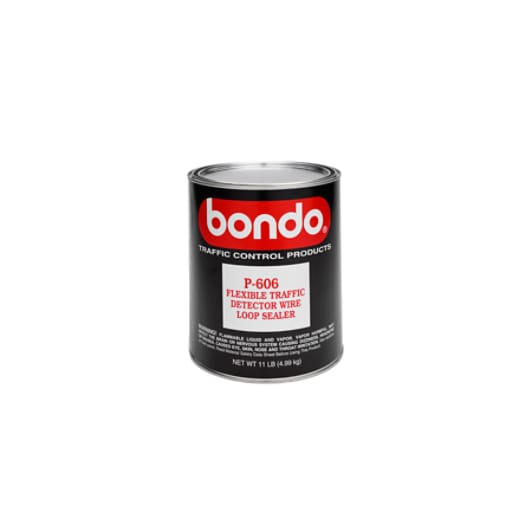 Sealant remains temperature stable and permanently flexible
Fast Curing Formula
Our
Bondo®
Traffic, P-606 Flexible Loop Sealer features rapid chemical curing, which minimizes the length of time a lane is closed, and has extreme adhesion to concrete and asphalt. It cures in less than one hour and is highly resistant to automotive fluids, jet fuel and extreme weather conditions..
Protects Against Weather and Chemicals
Designed specifically for shielding detector loop wires, our loop sealer encapsulates, insulates and protects while resisting weather and chemicals. It hardens smooth without finishing and stays strong and flexible even in extreme temperatures. The sealant bonds with concrete or asphalt surface.
Tough Yet Flexible
The sealant can be applied directly into the sawcut to form a durable tack free shell around detector loop wires without running into low spots, even on crowned or sloped roadways. This tough, flexible material also prevents the wires from moving around as it keeps contaminants away from them, minimizing false calls.
Durable, Long-Term Repair
The cured sealant presents a smooth surface across the sawcut so workers do not have to spend extra time finishing. It won't degrade in high temperatures, fracture even at temperatures as low as -40° F, or shrink over time; so you can say goodbye to call-backs for refilling or additional repairs.