3M™ General Purpose Cut-off Wheel is a durable, fast-cutting wheel for tough grinding and cutting applications. Aluminum oxide grains are bonded together into a rigid wheel that cuts fast and can be used again and again. This grinding wheels is used in a variety of metal cutting applications, including carbon steel, stainless steel, aluminum, and fiberglass.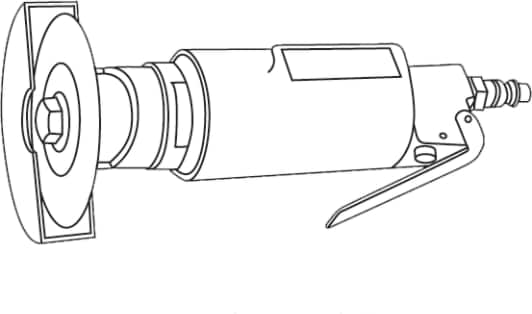 3M™ Cut-off Wheel Tool
Cut-off wheels must be attached to a cut-off wheel power tool designed specifically for the size of wheel used. For safety, cut-off wheels must be used with ANSI-approved flanges for Type 1 cut-off wheels and must always be used with a wheel guard that is compatible with the size of the wheel. The cut-off wheel must have a maximum operating speed greater than or equal to the maximum speed of the power tool used.
Our General Purpose Cut-off Wheel is constructed of aluminum oxide mineral abrasive, a popular choice among industrial professionals because of its fast cut-rate and long life. We chose this mineral because it is a tough, durable abrasive that self-fractures to expose fresh cutting edges in use, whereas traditional abrasives such as garnet quickly wear down with use. Due to its fast cut-rate, hardness, strength, and low heat retention, aluminum oxide mineral is widely used in all types of abrasives. Aluminum oxide is suitable for a wide variety of materials, including ferrous alloys.
Unlike abrasive discs, which shape or sand objects using the disc surface, cut-off wheels make a perpendicular cut through the work piece using the outer edge of the wheel. Abrasive cut-off wheels are typically used for cutting through metal, for example auto body or marine sheet metal, stainless steel tubing, exhaust pipes, clamps, propeller shafts, and rusted bolts. Cut-off wheels are attached to a cut-off tool (sold separately) and must always be used with a wheel guard for safety.